Eight powerful men in Uhuru's circle, they control destiny of millions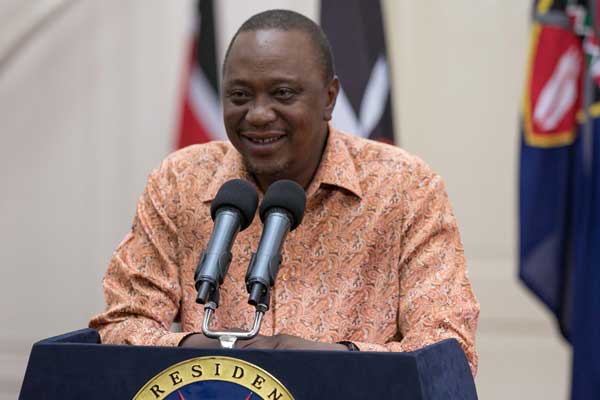 Soft power. You never see it during public rallies and national days. It is always behind the scenes from where they move mountains.
Every president has his men. His henchmen who double up as advisors and sidekicks but who invariably have political clout even when not in government. They direct policy issues as they shift political levers that tilt the mechanics of government.
They have political heft from wielding soft power: Founding President Mzee Jomo Kenyatta had Charles Njonjo, the then Attorney General, Mbiyu Koinange, a Minister of State and brother-in-law,
Retired President Moi had Nicholas Biwott while former President Mwai Kibaki had Francis Muthaura, Prof Nick Wanjohi, Matere Keriri and Dr Joe Wanjui.
Which Kenyans calls the shots in President Uhuru Kenyatta's government? Who wields soft power? Besides Jubilee Party chair Raphael Tuju-the CS without portfolio- and his deputy, David Murathe, here are all the President's men…
Muhoho Kenyatta
Alongside his mother, former First Lady Mama Ngina Kenyatta, Muhoho is the chaperon of the Kenyatta family's vast business empire which sweeps across agriculture, education, finance, hospitality, insurance, media, equity, property and real estate.
The President's brother holds political sway and is consulted on major decisions with political significance ramifications. For instance, Muhoho and his mother played major roles in securing President Uhuru and Nasa leader Raila Odinga's truce culminating in the March 9 'Handshake' which calmed bitter political waters after last year's protracted elections.
The Kenyattas and the Odingas come along way: Raila's father, Jaramogi Oginga Odinga, was instrumental in ensuring Kenyatta was released from prison-even Jaramgi thumbed his nose at stepping down for Jomo to ease his entry into parliament.
During the burial of Kikuyu musician Joseph Kamaru, Raila recalled how his father pushed the colonial government in the Legislative Council (Legco) to release him before Kenya could attain independence.
When Uhuru was born at Aga Khan Hospital Nairobi on October 26, 1961, it was Jaramogi who paid the mother and son a  visit, according to  Freda Shibonje, the nurse who helped deliver him and who met Uhuru in Kakamega during Mashujaa Day on October 20.
"If you want to know how deep those ties go, when Raila underwent a head surgery in 2010 to remove fluid on his brain, the Kenyatta family delivered a pickup full of goats to his Karen home. Who was in the front? It was Muhoho Kenyatta. The First Family, including Mama Ngina, spent the night at his home. Forget about political rhetoric. You can't separate those two families," a Central Kenya MP fluent about the Kenyattas told The Nairobian.
Other members of the wider First Family said to have heft include Uhuru's maternal uncle, George Muhoho.
Philip Kameru
By virtue of his position, the National Intelligence Service (NIS) Director General has unhindered access to President Uhuru.
But apart from delivering intelligence briefs, Kameru is influential in the day-to-day running of government including a crucial, little-spoken role in also being part of the behind the scene personalities behind the 'Handshake.'
Kameru is also believed to have pushed for the appointment of  Director of Public Prosecutions Noordin Haji, formerly of the NIS and DCI George Kinoti who have made good use of intelligence reports in fighting graft and influencing public discourse in media space.
 Joseph Kinyua
The former Finance Permanent Secretary, who worked under Uhuru at Treasury, serves as Head of Public Service.
In State House circles, Kinyua, 67, is referred to as the "elder in the room" and though he has been seeking to exit the public service,  President Uhuru would have none of it.
He is the  Secretary to the Cabinet despite having not been formally vetted and appointed and State House sources told The Nairobian that he sometimes overrules  Cabinet Secretaries and Uhuru sees him as a calm, decisive, firm and highly experienced technocrat who is key in implementing the Big 4 Agenda.
"Kinyua is the most powerful, influential and most experienced among the President's men. Cabinet secretaries have to run their decisions by him before they can approach the President. He is the elder in the room."
Justin Muturi
Patrons at Njuguna's pub along Waiyaki Way in Nairobi remember National Assembly Speaker Justin Muturi as the man who frequently quaffed booze after  nyama choma meat sessions with Uhuru before former President Moi intervened to change Uhuru's ways as part of his entry into active politics.
Muturi is the Speaker of the National Assembly and a vital cog in the wheel of legislating the Jubilee agenda. Sources in the know told The Nairobian that, alongside Interior Cabinet Secretary Dr Fred Matiang'i and Kameru, Muturi was among individuals Uhuru consulted before naming his initial Cabinet nominees after the 2017 elections.
Dr Fred Matiang'i
The Interior Cabinet Secretary rarely finishes a sentence without referring to 'His Excellency the President' be it when referring to security reforms or the government's determination to curb cheating in national examinations.
Described as a "super minister", Matiang'i, a former personal assistant to former powerful minister Simeon Nyachae, is said to enjoy the President's total confidence, trust and unfettered access.
Kinuthia Mbugua
The former Commandant of the Administration Police was previously Nakuru Governor but was persuaded not to seek re-election for other roles. It turned out to be State House Comptroller and he's said to have injected order at the House on the Hill.
As a no-nonsense administrator, Mbugua is known to send fear among staff and is seen as part of the reason the president's easy-going demeanour has begun to wear off.
Nzioka Waita
The State House Chief of Staff and head of the President's Delivery Unit is reputed to the Mr Fix It in official circles.
When Kiambu Governor Ferdinand Waititu's wife was arrested over some illegal construction in Nairobi, his counterpart Mike Sonko was overheard telling him to contact Waita, saying he is the only person who can help him.
Despite having no executive role at the PDU, Waita's reach is said to be unlimited though he has previously asserted that power is a matter of perception and he would not be drawn into discussing it.
"I am a backroom person. My work is to ensure that the job I have been given is accomplished. I work at the pleasure of the President," he told a local weekly.
 Njee Muturi
Like Uhuru, he's an alumnus of 'Saints' (St Mary's School). The former Solicitor General  is now Deputy Chief of Staff, Legal, Constitutional and Legislative Affairs, but who was Uhuru's   personal assistant for 11 years, besides serving as the executive director of Kanu and director of coordination when Uhuru was deputy vice president and later his political confidant and the 'Mr Fix It' at the Presidency.
As Solicitor General, Muturi was a constant figure in the National Assembly's public gallery to ensure MPs pass key legislative agenda as was the case during the controversial security amendments.
-sde.co.ke