Jomo Kenyatta's House In London-Lecturer recounts his academic journey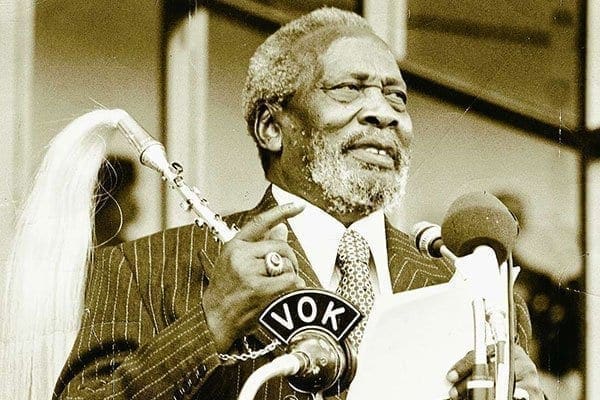 From the moment Johnstone Kamau Ngengi arrived in London, the British Empire's capital, on March 8, 1929, it was obvious his stay would attract interest.
For the next 17 years, life in Europe for the man who would later be known as Jomo Kenyatta was marred with controversy and intrigue.
However, his long stay abroad was not filled with the glamour envisioned by people back home; he was often hungry and short of money — sometimes due to his extravagance.
Secret documents would also later reveal that the British intelligence spied on him.
Mr Kenyatta had arrived in London on a one-way ticket as the representative of the Kikuyu Central Association, entrusted with a petition to present to the Secretary of State for the Colonies at London's White Hall.
Mr Kenyatta briefly returned to Kenya on September 24, 1930 and back to London on May 22, 1931.
WORLD WAR
From 1931 he spent 15 years in the UK during which he witnessed, from London, some of the most significant historical events of the 20th Century, including the Second World War from 1939 to 1945.
As conflict ravaged the world, Mr Kenyatta resided in Storrington.
But he got people in Kenya talking because of extravagantly squandering funds raised for his upkeep by KCA — a controversial visit to Moscow in the autumn of 1929 where he allegedly joined the Communist Party and trained as a revolutionary, accumulating debts, living hand-to-mouth in 1930s and an unconventional civil marriage to British governess and orphan Edna Clarke in May 1942.
But perhaps what puzzled many was how Mr Kenyatta, who was a former city council meter reader with limited education when he left Kenya, enrolled for a diploma at the prestigious London School of Economics (LSE).
More importantly, what qualification was Mr Kenyatta awarded after studying at LSE between 1935 and 1937?
Jomo Kenyatta house is the blue door in the middle at 95 Cambridge
Street, Pimlico SW1V 4PY, City of Westminster with a blue mark
SPECIAL STUDENT
Formal records at LSE revealed very little, but it is documented that Mr Kenyatta began to study anthropology under the tutelage of world-famous Polish born anthropologist Prof Bronislaw Malinowski, becoming among the first African students to be taught by the famous scholar.
Mr Kenyatta's name was concurrently in the books of University College London from January to July 1935 for a course in English and again from October 1935 to June 1936 for a three-hour course of Phonetics.
In an exclusive interview with this writer in August 2001, former lecturer and world famous anthropologist Sir Raymond Firth divulged new insights on the LSE credentials of the man who would be Kenya's first President.
"Kenyatta was my student at LSE. He was admitted under special terms as a candidate for a diploma course, though diploma in Anthropology was ideally for graduates or candidates who already possessed equal academic ratings," Prof Firth recalled at his Highgate home in North London.
He added: "There were special exceptions for persons who had spent over two years overseas engaging with work that had brought them in contact with 'native' life, and it was therefore thought that Kenyatta's previous personal experiences of his Kikuyu tribe made him a suitable student and was subsequently admitted as a special candidate."
ANTHROPOLOGY
When he arrived in London, Mr Kenyatta is said to have taken a keen interest in social anthropology, and came across the work of people like Prof Malinowski.
Prof Firth, who retired in 1968, noted that Mr Kenyatta thought anthropology would provide analytical help in solving Kenya's colonial problems.
The diploma course was supposed to last three years, of which one year was reserved for field work, and on successful completion there was a thesis to be written before the diploma could be awarded.
"He was to take the diploma in two years and as a major element in the diploma, he wrote a thesis," the former lecturer added.
According to Prof Firth, Mr Kenyatta was a bright student and on November 14, 1935 he presented his thesis at LSE before his teachers, critics and fellow students which centred on female circumcision among the Kikuyu.
"Europeans and missionaries consider this rite disgusting and barbarous, but the Kikuyu consider it very important for the solidity of the social structure," Jeremy Murray-Brown writes in Kenyatta, a biography published in 1972.
LEAKEY
However, one of Kenyatta's fiercest critics, Louis Seymour Bazett Leakey, a prominent Kenyan palaeoanthropologist and archaeologist whose work was important in demonstrating that humans evolved in Africa, regarded Mr Kenyatta's potential influence on the Kikuyu tribe as mischievous.
Leakey, who had been initiated into Kikuyu age group of Kihiumwiri, just like Mr Kenyatta, and had written on female circumcision for an anthropological journal in 1931, disagreed about certain aspects at the seminar, which resulted to both men screaming at each other in Kikuyu as the bewildered audience watched on.
In a dramatic twist, two arch-rivals met again face to face 17 years later, on December 3, 1952 at Mr Kenyatta's Kapenguria trial.
Mr Leakey was the court interpreter but after persistent objections by Mr Kenyatta's defence counsel Dennis Pritt, the interpreter was replaced by a Scottish missionary, Robert Philip.
Mr Kenyatta's co-accused were Paul Ngei, Bildad Kaggia, Achieng Oneko, Fred Kubai and Kung'u Karumba.
Murray-Brown notes that in anthropology, Mr Kenyatta had found the weapon he needed to answer the philosophy of colonialism and the outcome was his book Facing Mount Kenya, published in London in 1938.
CUSTOMS
Referring to an old copy of Facing Mount Kenya from his picturesque collection of books from all over the world, Prof Firth – who is mentioned in the preface of the book as Dr Raymond Firth in an introduction written by Prof Malinkowski, confirmed that Mr Kenyatta was awarded a Diploma in Anthropology after completing his studies.
Facing Mount Kenya is a collection of studies in Kikuyu life and customs based on papers which Mr Kenyatta wrote for Prof Malinowki's seminars.
It contains autobiographical references and a wealth of ethnological details.
In his introduction, Prof Malinowki noted the book was one of the first important contributions to African ethnography by a scholar of African parentage.
Prof Firth remembered Mr Kenyatta as a diligent student who was much older than the others.
"There was a sort of gravity and dignity about him, which I think other students recognised," he said.
LEADER
It was at LSE that Mr Kenyatta's leadership skills began to take shape, something his former lecturer describes as a menacing presence that made him an outstanding student.
"He took part in many activities like student parties and was usually seen as a leader by other students. We knew and recognised that Kenyatta was studying anthropology by day and engaging in politics at night," Prof Firth, who recalled Mr Kenyatta often talking about his Kikuyu people and occasionally breaking into folk song, noted.
According to Murray-Brown, Mr Kenyatta and Prof Malinowski were close friends who shared certain prejudices, among them a dislike for Indians.
Mr Kenyatta's grouse was that a majority of Indians had joined Europeans to exploit Africans in Kenya.
Some of the students at Prof Malinowski's classes included famous names in the field of anthropology like Audrey Richards, Lucy Mair and Elspeth Huxley.
PLAQUE
Among Mr Kenyatta's companions at LSE were Prince Peter of Greece and Denmark – who introduced him to aristocratic and cosmopolitan lifestyle – and David Abercrombie, a celebrated British phonetician who collaborated with Mr Kenyatta to raise funds for the defence of blacks causes.
During his student days at LSE, Mr Kenyatta resided at 95 Cambridge Street, Pimlico SW1V 4PY, City of Westminster.
The Victorian town house was put up some time in Queen Victoria's era (1837-1901), and commissioned by English Heritage in March, 2005.
It's commemorated with a blue plaque which reads; Jomo Kenyatta, 1894-1978, First President of Republic of Kenya lived here from 1933-1937. He finally returned to Kenya on September 5, 1946.
By GITAU WA NJENGA
Gitau wa Njenga is a former London-based investigative journalist and a freelance researcher currently based in Nairobi. [email protected]
-nation.co.ke