DP Ruto lauds Embu MPs for not walking out on him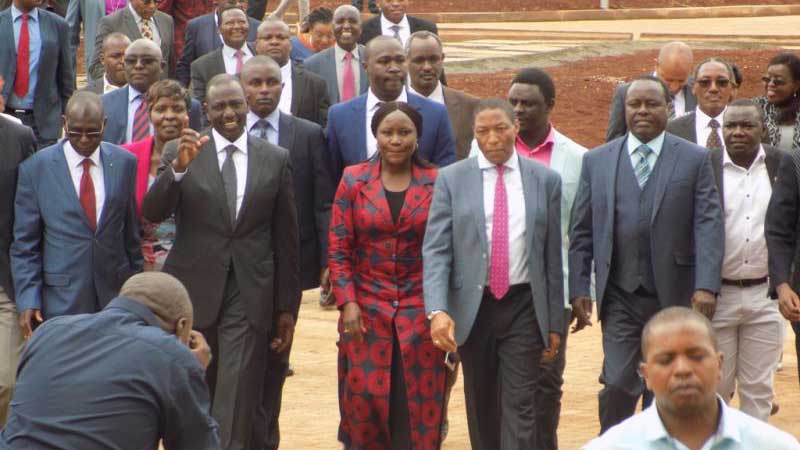 A Rebuke to Bomet MPs: Deputy President William Ruto on Thursday stirred laughter when he praised the Embu MPs for not walking out on him even when they were not given an opportunity to speak during a function at the University of Embu.
"I want to thank the Members of Parliament in Embu for not making a walk out like others elsewhere. They demonstrated maturity and understanding that this is a university occasion and we can discuss other matters in other forums," he said.
Ruto made the remark as he finished his speech when he launched an endowment fund at the university on Thursday.
Academicians including University Chancellor Prof Paul Musili, Vice Chancellor Prof Daniel Mugendi and council chair Dr Margaret Gikuhi made their speeches.
For political leaders, only Governor Martin Wambora, Senator Njeru Ndwiga, Manyatta MP John Muchiri and former Embu Senator Lenny Kivuti who is the fund's board of trustees chairman were given an opportunity to address the gathering.
Embu Speaker Josiah Thiriku was also given an opportunity to introduce the MCAs.
MPs Geoffrey King'ang'i (Mbeere South) Muriuki Njagagua (Mbeere North), Eric Muchangi (Runyenjes), Cecily Mbarire (nominated) and Jane Wanjuki (Woman Representatives) were introduced by Ndwiga.
The leaders, however, got a chance to address the people in the next function that Ruto attended to commission Privamnuts Macadamia Factory.
Ruto called on citizens and leaders to support the government's development agenda and to cease from politicking since time for politics ended with last year's election.
Last week, Bomet MPs walked out of an event officiated by President Uhuru Kenyatta after they were not given a chance to address the people during the opening a Kenya Cooperative Creameries milk plant in Sotik.
They told a press conference that their being left out was not in good faith but was intended to deny them a chance to talk about the issues facing the electorate.