Jacque Maribe on Itumbi: This is 'more than love'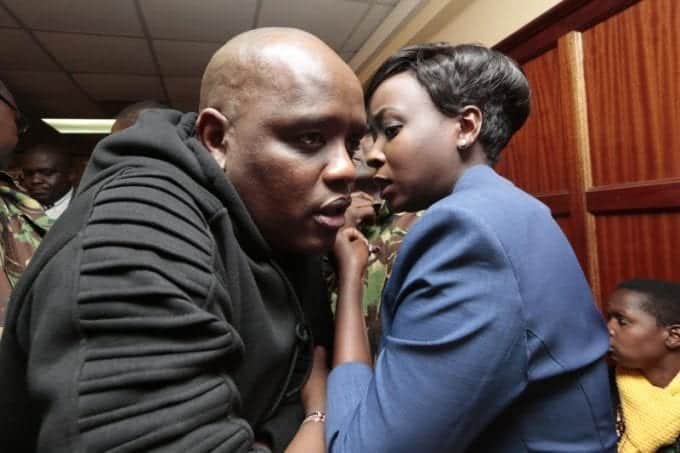 Dennis Itumbi and journalist Jacque Maribe are increasingly becoming joined at the hip with estranged fiancé Joseph Irungu alias Jowie being edged out of her way.
"For my friend Jacque, I pray for Justice, that she may be surrounded by lasting peace… Let justice prevail dear Lord. I pray that she gets bail today, so that she can hustle again and bring up her child – Zahari, to achieve all his dreams, like she has always wanted to," Mr Itumbi wrote, just hours before Ms Maribe's bail application hearing on Tuesday.
And like he has done consistently since the day Maribe was arrested, sleep evaded him as he took to social media a few minutes to 2am to pen yet another moving tribute.
His prayers were answered a few hours later when Justice James Wakiaga granted the journalist bail. The judge denied Jowie the same.
When Justice Wakiaga read the ruling, the man who has been running the Digital and Diaspora Communication in the Office of the President could not hide his joy. He clung onto the neck of Maribe's father, Mwangi Maribe.
Like many others in court, he broke into song and dance, for a friend, who"from the depth of a soul that has always connected…"
Celebrations went on late into the night at her parent's home, even as they worked to finalise the paper work for her release. Itumbi stuck with the family, and as he has done almost on a daily basis in the month-long proceedings during which Jacque has been at the Lang'ata Women's Prison.
According to sources, Itumbi visited her, working closely with her legal team to ensuring all was done to ensure she was comfortable every time she was out of the cells on temporary respite during the bail hearing.
His romantic antics have, however, won him admiration and condemnation in equal measure. For some he is a man taking advantage of a damsel in distress. For many others, especially women, he is a true gentleman who stood by his friend through thick and thin.
In an exclusive interview with The Standard, Itumbi denies taking advantage of Maribe. "I work for State House, I do not stand with Jacque because I have a lofty title acquired over time, but because we share something more meaningful and important than a job title – friendship".
He describes her as a dear friend despite the chemistry, body language, deep smiles and knowing looks that paint a picture of lovebirds. "By the way, last weekend, I told her, as her very supportive father and mother listened, 'people are saying I am trying to win you back'…"
And Maribe's response was quite telling. "Tell them, we share a soul. Something deeper than love, a friendship that words can only spell but not explain," she responded.
Back in December 2015, the two had made headlines after Itumbi surprised Maribe during a live TV broadcast where he presented her with a birthday cake. And with a photo surfacing on social media of the two kissing, there was seeming credence to murmurs of a romantic relationship, a mystery that has followed the two now beyond prison doors.
But where did it all start and where is this love boat headed after this, one may wonder.
We talked to the duo and in a candid one-on-one interview that will be in your copy of the Pulse magazine tomorrow, they open up on how they met and what is brewing between them.