The Plight Of Kenyan Men: Is Your Father Okay?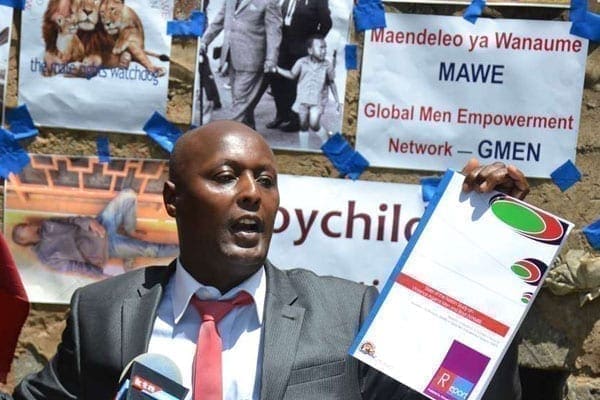 A recent research of homesteads especially among the urban Kikuyu's reveals a worrying trend, where the father figure either died a while back, or is overly depressed, a drunkard or both. A conversation with my elderly caretaker yesterday centered on the recent death of Abel Mugenda the husband to a renowned scholar and former Kenyatta University VC. The Mugenda family happens to be our neighbors and the conversation with our caretaker was therefore, based on factual details.
He retorts, "Abel, may have been facing serious depression, but just like most men, he was ashamed to affirm that his eyes were teary (after all African men don't cry)."  He continues "You don't know how hard it is to be under the shadows of a successful woman, it is like carrying live coal on top of your head, on a windy day. Of course no one will confirm it was suicide, but we all know he was depressed." He concluded.  The old man continues to count for me so many other homesteads around us where the men have become cabbages and only drink from dawn to dusk and the fact that it is a common trend for the man to eventually die, while leaving behind a strong well-maintained woman, despite their age gap being minimal, you know the type of widows who fly to China and Dubai often and own harriers.
But the conversation got me thinking, why would a 66 year old, celebrated scholar, a don in a prestigious university and a man of means decide to jump from the 6th floor of a hotel room? Even worse why would he leave his matrimonial home to rent out a hotel room "alone" on the eve of the new year? Recently, a top employee in a well-renowned audit firm did the same in his office in Westlands and died on the spot. I know many men in marriages, men of the cloth, rich men and poor men who are at the verge of suicide. Therefore, the question is how well is your father?
A rumor went around recently that men no longer eat at home, because they are weary of shrewd wives who make meals for their husbands and intentionally add small portions of steel wire on their food leading to slow but inevitable death. Another rumor has it that especially in cases where couples have vast properties the woman gives the man the leeway to drink himself silly and even gives him a daily stipend for alcohol, with the results evident in central Kenya. As I have indicated, these are rumors, but they also provide a basis for a discourse on the plight of men. How well is your father?
Even when we call home, the chance of calling our mothers is definitely higher than our dad's.  Has the African man been so awful that they eventually die a death of solitude and regret? For us who are now young men, with families, what must we begin to do to ensure that at old age we are not part of these statistics? When I reached my wife for a comment, she noted that in most cases, the problem is that the men mistreat their families during their youthful days. When the children eventually grow up, the man loses favor with the family and is relegated to a beggar both emotionally and financially. How true this is, I can't verify. All I know is that men do cry but when they do they do it secretly and in that state the devil visits them and they end up forming an uncanny relationship, which we all know how it ends.   Please talk to your father.
Peter Karanja
Freelance Writer