VIDEO: Riverside Attack: CCTV Footage Shows Faces of Attackers

CCTV footage has emerged showing that there were four assailants who allegedly carried out the attack at Riverside, Nairobi.
The clip shows four men walking into the parking lot with guns that appear to be AK47 rifles.
The CCTV footage with a time stamp of 3:32pm reveals how the assailants gained access into 14 Riverside buildings.
Recounts of a worker at Dusit Complex who survived, saved many during attack
Security officials also confirmed that they have identified the owner of the vehicle which exploded outside the building.
Earlier on, Interior CS Cabinet Fred Matiang'i, condemned the attack terming it a cowardly act by the 'suspected terrorists'.
"I condemn in the strongest terms the cowardly and heinous acts we witnessed in Nairobi today," he stated.
He gave a progress report on the rescue operations stating,  "We have secured all the buildings affected in this event. We are now mopping up the area and securing evidence."
Dr Matiang'i further assured that the country was safe as the situation was under control.
"The country is now secure. Kenyans should feel free to continue with their duties. We have been tested and found not wanting. Terrorism will never defeat us. We will not surrender or bend," he stated.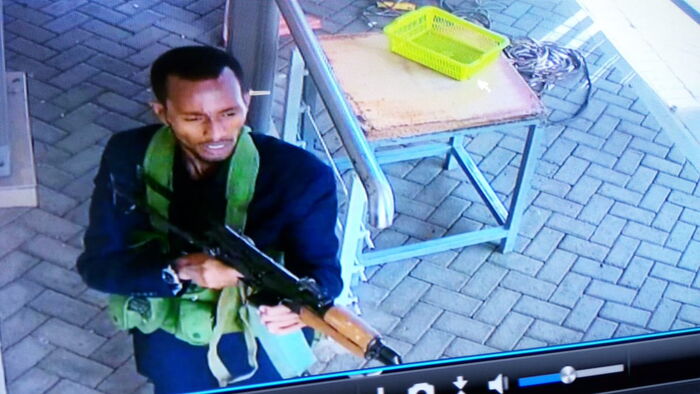 By MICHAEL MUSYOKA