Sad Story: I married a disabled wife, we got 2 disabled children
I married a disabled wife, we got 2 disabled kids but our love keeps us strong
A couple in Nairobi's Njiru estate has come out to speak of their love story that has surmounted challenges of disability and managed to keep them together for the past fifteen years.
Charles Muchoki Mwangi met Ruth Wairimu Karanja fifteen years ago and the two said they clicked from the beginning.
Ruth had been born with a physical disability that led to her losing her lower legs but her would-be-lover was not deterred.
"I would always ask him if he was sure if he really wanted me because I had no legs and I was using artificial ones, but he insisted that he knew it and he told me that he loved me as I was. I eventually took him home to my parents and that is the story of our marriage that has lasted 14 years," Ruth said in an interview with Kikuyu Diaspora TV.
The couple got their first child shortly after their marriage – a gift that also proved to be a test of their love.
"Our first child was born with the same challenges I had and had the lower legs amputated at a young age. He has, however, recovered and is doing well in school," the couple narrated adding that the birth had caused them problems as their friends and families did not anticipate that the condition could be passed on to the children.
The second child, a girl, was born without any challenges after which the couple decided to have a third born.
Social Stigma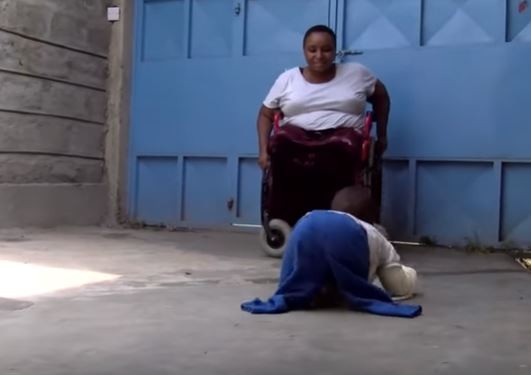 "The third born, a boy, was born physically challenged and his condition was worse than mine as his hands were also affected with several extra finger growth as well as phimosis (a condition where the penis and the scrotum are attached)," the mother said.
The couple added that despite the challenges of raising children with special needs on top of one of the spouses being physically challenged, they have overcome naysayers to protect their love.
"When you marry a spouse who is physically challenged, many people will assume you are lost. But what many do not know is that everyone has their own challenges, they may not be physical or mental but they will. I have faced a lot of hostility from friends and family members but I remain grateful to God because he gave me a wife and he has blessed with children – there are many who have no children so I am grateful," Charles said.
They, however, admitted that their story had not been easy. They are both unemployed and often struggle to make ends meet to cater for the expensive medical procedures required to ease life for their children.
They have called on well-wishers to assist them take care of their children's medical expenses.
Those who would like to help can contact the family through their Kenyan # 0714915869