Kenyan man William Mugambi weds Museveni's niece in Meru
Kenyan man William Mugambi weds Museveni's niece in Meru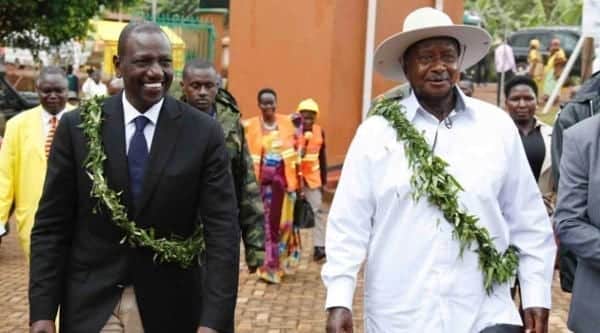 Betin Kenya regional director, William Mugambi, on Saturday, August 17, exchanged wedding vows with his longtime lover, Rosette Barungi, the niece of Uganda's President Yoweri Museveni.
The solemnisation of the union took place at the Nkubu Catholic Church, and a wedding reception followed, thereafter, at Nkubu Heritage Gardens.
The bride, Ms Barungi, is the daughter of President Museveni's brother.
The couple had, in April this year, held their traditional wedding in Mbarara, Western Uganda.
Though President Museveni did not personally attend the April function, he sent his son, David Rubakuba Muhoozi, to represent him.
In Museveni's speech, read by Muhoozi, the Head of State said: "You [Mr Mugambi and Ms Barungi] are in our prayers, and we know you will build a successful family and future because the foundation that you are from has shown us what you can be."
The president said he wishes to see more cross-border marriages taking place within East Africa.
"This is what we want to see; people accepting and living together in the spirit of mutual respect," said President Museveni.
Mr Mugambi and Ms Barungi, who are parents to three daughters, met in London, UK, 20 years ago.
While delivering his speech in Mbarara in April, Mr Mugambi revealed that he was working in London, whereas Ms Barungi was a student, when they met.
"She [Ms Barungi] had just completed her studies, when I met her. We went on to live in the UK, and currently, we are blessed with three beautiful girls," he said.
"She [Ms Barungi] is my best friend, and I wish her good health with God's blessings," said Mr Mugambi.
President Museveni, in the April ceremony, gifted the lovebirds gifts worth Ksh10 million.
By Gerald Ithana.
Source-k24tv.co.ke
Kenyan man William Mugambi weds Museveni's niece in Meru