VIDEO: Emotional Story Of Homeless Kenyan Woman Living In UK
VIDEO: Emotional Story Of Homeless Kenyan Woman Living In UK. A homeless Kenyan woman in the UK, identified as Peggy, moved Kenyans with her emotional story of how she has been struggling in the streets, that even at one point, she was almost aggressively raped by layabouts.
In a video seen by Kenyans.co.ke, posted on a Facebook group Kenyans in the UK, Peggy narrated her ordeal while struggling to hold back her upsurging emotions.
"Well, I am the firstborn of three children. I have three brothers, Steven, George and Kevin, and a single mum who lives in Kenya. I was born in Kenya, and my mum works very hard. She is still alive. She had a brutal time in her life. I came to know about her struggle through different means. She is an international businesswoman. She really came from nothing and worked her way up," she spoke.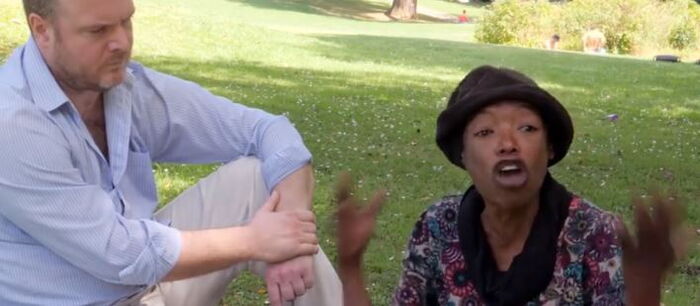 "I have a daughter as well. She is 11 years old and her name is Peggy Junior. My mum works as a businesswoman. We all went to school. We were educated internationally. We went to different countries. I came to England, Steven went to America, and George went to Manchester. He was here with me and Kevin went to a South Malaysian country," Peggy narrated.
According to the homeless woman, she went to further her studies in the UK despite her mother urging her not to.
"When I came to England, I came to undertake my Masters in International Marketing. It was a short stint because the course was short too and I had already done my Bachelors Degree. When I went home, my mother begged me to stay, stating that she had a bad premonition, but I didn't understand," Peggy cried.
She regretted not listening to her mother as life in England turned haywire. The desolate woman revealed that she had looked for help but it wasn't forthcoming.
"I have searched for help severally but most offices state that they couldn't help me because I wasn't mentally challenged, nor physically disabled, nor did I have a criminal record.  I told them that I have a daughter and I am a girl, but they still declined," she emotionally recounted.
Living in the streets is painful for her as she has been faced with several challenges including being physically and sexually assaulted.
"A well-wisher came and bought me clothes and socks on Valentine's Day. There are some kind people out there who also bought me sun cream and tights. However, that night, I was bound all over, they strangled my neck, and I was screaming all over. I was so scared because they had needles they use to inject me with the drugs they abuse," a traumatic Peggy recalled.
She went on to break into tears, recalling how her daughter was taken away.
"That night I also lost custody of my daughter.  My mum is a decent human being, so it is not right for us girls to be tortured because we have no men to help us. You cannot go on doing this. I am not a mammal, I am a human being. It is so painful.
"Give me my daughter and I go back home. I am a brilliant woman. Hi, baby gal (Peggy Junior), mom and Steven, George and Kelvin. I am alive still, in spite of everything. My first happiness is my family. My daughter, mum and brothers. I don't have a father," Peggy begged.
The story elicited emotions from Kenyans who requested relevant authorities to intervene and help the stranded woman.
"Oh dear the pain of her child being taken away, no family near to turn to for help and now homeless, sad kabisa (so sad). May God make a way in her life, she sounds like a very intelligent girl," Monica Wakenyatta responded.
"Any way someone can assist? Don't know the ins and out of this case but I pray for destiny helpers," Faith Monica wished.
In February Kenyans.co.ke came across video footage of a Kenyan man stranded in the United Kingdom (UK), begging for help from passersby along Luton Street.
According to the video posted by Bancy Wairimu Mbui on her social media, the man identified himself as Dan Mutungi and claimed that he had been in the UK since 1992.
By JOHN MBATI
Source-kenyans.co.ke