3 Kenyan Men Arrested By FBI In Ksh300M Scandal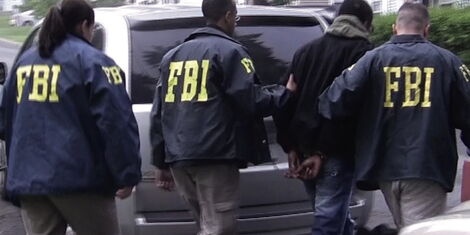 3 Kenyan Men Arrested By FBI In Ksh300M Scandal: Three Kenyans were among 281 suspects that were arrested by the US Federal Bureau of Investigations (FBI) in a Ksh384 million internet fraud scandal.
Documents filed by the US Department of Justice showed that  Robert Mutua Muli, Amil Hassan Raage and Jeffrey Sila Ndungi were arrested after years of investigations by the FBI.
The Daily Nation on Saturday, September 21, reported that the FBI swoop resulted in the seizure of nearly $3.7 million (Ksh384 million) and the disruption and recovery of about $118 million (Ksh12 billion) in fraudulent wire transfers from 281 suspects from nine countries worldwide.
Interestingly, Kenya and Nigeria were the only African countries on the list of nations where the FBI made arrests and seized property bought by scammers.
Among the three, is Muli, a 59-year-old Kenyan immigrant from Carrollton, Ohio, who was arrested for stealing $2,128,133.83 (Ksh212 million).
Apart from defrauding the Fairfax County government by tricking its workers that they were sending payments for computers to Dell, Muli also conned the state of Vermont of $13,684.63 (Ksh1.3 million) and the city of Detroit $769,226 (Ksh79 million).
The second highest scammer from Kenya was Raage, 48, who was picked up by FBI detectives from Nairobi on May 9, with $949,393.14 (Ksh94 million) in his bank accounts.
Ndungi, 33, who was in April 2018 sentenced to 20 years in prison, had managed to steal only  $76,592.86 (Ksh7.6 million) before FBI agents lured him to fly from Nairobi into a trap in Dallas, Texas.
He was nabbed at the Los Angeles International Airport as the plane he had boarded sat on the tarmac waiting for clearance to fly to London, where he would have connected to Nairobi.
Before his US arrest, Ndungi in 2010 then an engineering student at University of Nairobi, allegedly hacked into a cable company in Kenya and Nigeria and sold service packages from his house in South B.
From the hack, Ndungi is said to have made so much money that barely two years after graduating he bought two Cessna planes with the tail numbers 5Y-CCN and 5Y-CCO.
In 2013 he leased one of the planes to Nairobi Flight Training Ltd. He also owned a top-of-the-range Cadillac Escalade and a Range Rover Sport, which the US repossessed after he was arrested.
HOW THEY DID IT
They would first identify a potential target in this case they used sophisticated means to hack the Fairfax County systems in Texas, US and identified Dell as one of the suppliers.
They then sent an email to Dell asking it to reroute its pending payments to another account based in Ohio.
The Fairfax County administration obliged and sent a total of $1,345,423.20 (Ksh134 million) to the new account using electronic transfers
Immediately the money landed into the Ohio account it was transferred to several accounts worldwide before ending up to an account in Nairobi
By EMMANUEL GITHUKU
Source-kenyans.co.ke
3 Kenyan Men Arrested By FBI In Ksh300M Scandal