Fake Kenyan Refugees in Europe and USA Exposed By CNN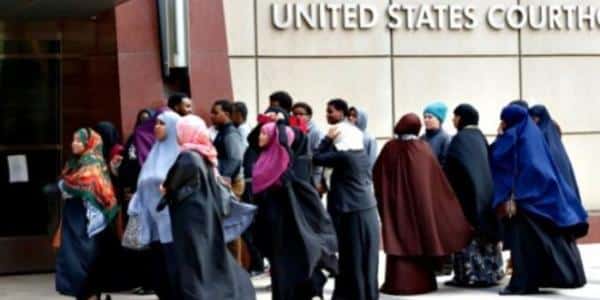 Fake Kenyan Refugees in Europe and USA Exposed By CNN: A section of Kenyan citizens who made their way into Europe and the United States of America and fraudulently registered as citizens were exposed by CNN on Wednesday, October 9.
The citizens mostly of Somali descent had been relocated in these continents as a resettlement plan for refugees who were registered at the Daadab refugee camp in Northern Kenya.
CNN claimed that the Kenyans had first come as refugees and were enrolled by their camp leaders but built themselves up to become citizens of their host countries.
Those interviewed by the media giant revealed that they had lied their way into America and Europe in a bid to avoid further suffering.
They, however, requested to remain anonymous for fear of deportation and arrests that could come up if their identities were revealed.
"We took the opportunity that was in front of us and didn't take it for granted. We have followed the American dream as they call it. We have all gone to school and graduated," one Kenyan of Somali origin disclosed.
He also divulged that his family members were not refugees as his father faked his way into America in the 1990s.
"I feel bad for them [the real refugees], but at the same time it's all about first come, first served. I feel like if they had come before us, then we would have been the ones to stay and they would have been the ones who would have gone," he added.
The exposé continued by claiming that in Kenya, most refugees registered in camps were are actually locals.
The investigation noted that between 1960 and 2016, an unconfirmed number of these fake refugees were resettled in the USA and other countries in Europe.
The refugees mainly came in from the Daadab camp in Kenya that hosted hundreds of thousands of people who were fleeing war torn Somalia.
This population did not capture the real number as most of those settled in the camps did not qualify to be refugees.
"We have had Kenyans who have been caught in the refugee database for the last 25 years. Some of them were looking for food, shelter and opportunities," Daadab MP Mohamed Dahiye is quoted by the American broadcaster.
The United Nations High Commissioner for Refugees (UNHCR) confirmed that less than 1% of the 20 million possible resettlements in 2018 managed to settle in the host nations.
CNN reported that it also tracked refugee families living in Canada, USA and Europe through social media and apparently realized that most of them did not meet the criteria of being classified as refugees.
Source-kenyans.co.ke