Feed An Orphan In Africa Hope Center Kenya Initiative

Feed An Orphan In Africa Hope Center Kenya Initiative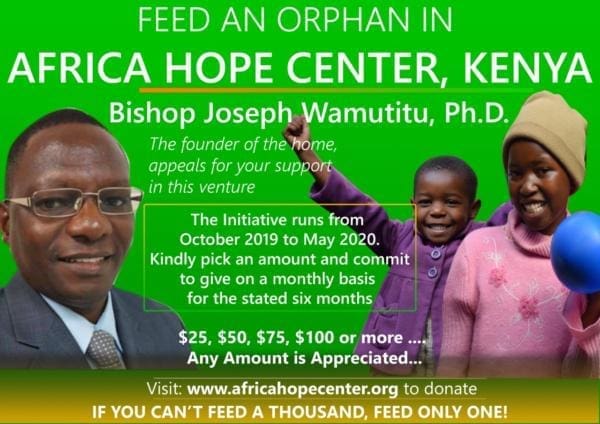 Feed An Orphan In Africa Hope Center Kenya: Africa Hope Center is a grass root initiative making intervention to those affected and infected by HIV/AIDS in Africa. The home opened its door to the first 5 orphans in January 2005 as a response to the crisis of kids losing their parents to HIV/AIDS one after another.
The kids were residing in a two bedroom apartment with one house mother. The Home had another intake in 2007 where the population grew to 23 kids.
The home is currently taking care of 57 kids and has admitted 152 kids since inception. The orphans are spread through primary school, high school and tertiary. 23 are in primary school, 32 in High school, 2 in Tertiary training.
The Center was founded by Bishop Dr. Joseph Wamutitu and runs its operations through a Board of Trustees. The society has a sacred responsibility in mitigating the suffering brought about by HIV/AIDS to the countless orphans all over the world.
Dreams have been crushed: talents wasted; potential buried in hopelessness as they ravage, yet many people have chosen to watch from a distance as innocent orphans suffer rejection, stigma and wasted ability.
AHC provides unequaled opportunity for you to put a smile on the face of an orphan as you shape their future through HOPE. HIV/AIDS afflict both the adults and children
-http://africahopecenter.org/
Feed An Orphan In Africa Hope Center Kenya Initiative