5 highest-rated films of Kenyan-born Hollywood star Edi Gathegi
5 highest-rated films of Kenyan-born Hollywood star Edi Gathegi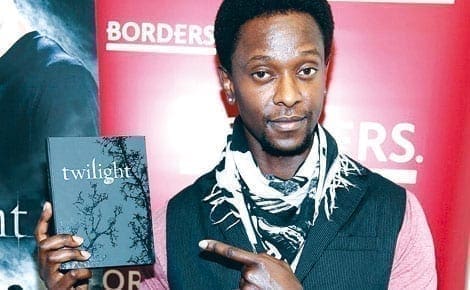 Edi Mue Gathegi – born in a family of three on March 10, 1979 – has featured in more Hollywood films than any other Kenyan actor.
While just three years old, his family bid Kenya goodbye and moved to the United States where his father was going to pursue further education. They settled in Albany, California.
He enrolled at the University of California where he tried out for the basketball team but injured his knee during a practice session.
It was during the depression that followed that he discovered acting and actually fell in love with it.
So he applied for a loan and enrolled into the New York University where he majored in acting at the Tisch School of Arts.
Gathegi has now taken part in over a dozen film and T.V productions; among them Crank, Death Sentence, Gone Baby Gone, CSI: Miami, Twilight, X-Men:First Class, The Blacklist, The Blacklist Redemption, Into The Badlands, House, Proof, Start Up and many more.
Below is a list of the Top 5 Best Rated Films and TV shows starring Edi Gathegi (according to Rotten Tomatoes) who – during a previous interview with EDAILY – described himself as a private and introverted person.
1. Princess of the Row – 100% 
This is a touching film about a young girl Alicia Willis (portrayed by Taylor Buck) who lives with her veteran father, Beaumont 'Bo' Willis (portrayed by Edi Gathegi) on the streets of Los Angeles.
Bo is a homeless veteran who has suffered severe trauma from his time as a soldier.
Taylor's stellar performance as a runaway foster child is greatly complemented by Gathegi's challenging character of a silent man whose emotions are greatly depicted through his face and body language.
"As much as it is physical, I always like to think of Bo as having a very complex and broken emotional life. I remember there was an early draft of the script and we had a conversation about what if we just started pairing down everything that he said," said Gathegi in a past interview about the role.
Princess of The Row majorly tackles topics on homelessness, mental illness, the foster care system; although, ultimately, it is a story of hope and love.
2. Startup – 95% 
This gritty drama follows the lives of unlikely tech entrepreneurs; a banker (Nick Talman, portrayed by Adam Brody), a tech genius (Izzy Morales, portrayed by Otmara Marrero) and a mobster (Ronald Dacey, portrayed by Edi Gathegi), with a powerful FBI agent after them.
Your introduction to Ronald, about 20 minutes into the first episode, is a shot of him being awakened by one of his kids, followed by a good morning kiss to his wife in the kitchen. He then steps outside, down the street of his neighborhood, and into a nearby dwelling where he tortures a hostage for information.
It is both a beautiful and quite cinematic interlude which portrays a chilling and charismatic character of Dacey, in equal measure.
"But this guy is ostensibly the moral compass of the show. He's bad, but for him, it's just business," said Gathegi about the character.
3. X-men: First Class – 86% 
Matthew Vaughn's 'X-Men: First Class' cast Edi Gathegi as the mutant Armanda Munoz nicknamed Darwin after Charles Darwin.
Darwin's mutant ability was 'reactive evolution', which means he was able to adapt his body to any environment, as demonstrated through various aspects in the show; he grew gills when submerged in water, grew thick body armor when attacked and became flame-retardant under extremely high heat degrees. He even removed his ability to hear while at a Nickelback concert.
In his day-to-day job, Darwin worked as a taxi driver and this is how Charles and Erik recruited him for their CIA-sponsored mutant group.
Darwin met his demise after the assault on Division X facility. While trying to stop Sebastian Shaw together with the help of his friend Alex, Shaw absorbed Alex's energy blast and placed it within Darwin. Darwin's efforts to contain the energy were unfruitful as he ended up spontaneously combusting.
"What I like about my character's powers is that a lot of the X-Men have very cool powers, but with this one you actually see it happening and you see why it's happening," commented Gathegi.
"In the right circumstances you see the thought behind the character and the need to create that evolution. There's a logic to it. And the possibilities are endless with good writing."
4. Free Spirit – 85% 
Free Spirit is a short film created and conceived by Khalid and Emil Nava.
Khalid uses music from his similarly titled sophomore album to share the beauty and pain he went through while growing up in a nomadic household with his military mother.
The film shares a visual story which helps in expanding his lyrics and artistry thus creating a direct creative parallel to his new album.
Free Spirit is a narrative of discovery, love, pain and purpose packed in an oh so compelling way.
5. Twilight – 82% 
This romantic fantasy film based on a novel of the same name written by Stephenie Meyer focuses on the development of a fond relationship between Edward Cullen (a vampire) and Bella Swan (a teenage girl).
Edi Gathegi plays the role of Laurent, a vampire who relinquishes his thirst for human blood temporarily and leaves his home in search of a more human-friendly coven.
Gathegi tried out for the movie after a recommendation from a casting director and when auditioning, he had no idea it was a vampire story.
After finding out that he had landed the role, Gathegi read all four of the Twilight sequel novels and found Twilight to be his favorite.
"For me, it was an exercise in stillness. The less I did, the creepier I'd be," he has previously said on the role.
By Osicho Cynthia
Source-edaily.co.ke
5 highest-rated films of Kenyan-born Hollywood star Edi Gathegi