Cyprus set to revoke citizenship of Kenyan Billionaire Humphrey Kariuki

Cyprus set to revoke citizenship of Kenyan Billionaire Humphrey Kariuki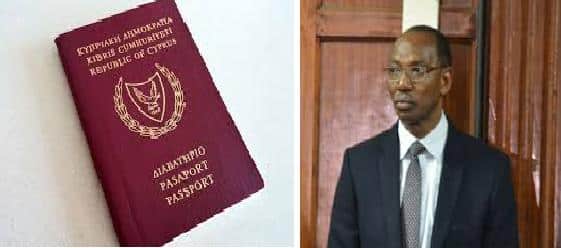 Kenyan billionaire Humphrey Kariuki is one of the 26 rich foreign investors whose 'golden passport'  is set to be revoked by the Cyprus Government.
According to a report by Cyprusmail, the island country is in the process of revoking citizenship for Kariuki, his wife Stelia Nasike, nine Russians, eight Cambodians, five Chinese and one Malaysian.
On November 7, 2019, BBC reported that the Interior Minister Constantinos Petrides stated that there had been 'mistakes' in processing some citizenship requests.
"It was a mistake not to have criteria, for instance, for high-risk persons," he told the publication.
Kariuki is facing charges of evading to pay Ksh41 billion in taxes, through his businesses, Africa Spirits, and Wines of the World.
The investigations to Kariuki's case began on January 30, 2019, when DCI got information about a trailer that was suspected to be transporting uncustomed goods.
The officers tracked the lorry and found it parked at the compound of Africa spirits Limited/ WOW beverages Limited.
Thereafter, they found 80 drums of unaccustomed ethanol each around 250 litres.
KRA investigations showed that WOW beverages had evaded taxes amounting to Ksh41,539,038,448 between 2014 and 2019.
By STEPHANIE WANGARI
Source-kenyans.co.ke
About Humphrey Kariuki
Humphrey Kariuki is an African success story. From rural beginnings, HK began his career at the Central Bank of Kenya before setting up his first business and embarking on his journey as an entrepreneur.
HK has proven that business can be done successfully in Africa. With a track record of finding pioneering solutions to problems and gaps in the African market and playing a role in helping to address some of the critical challenges facing Africa today, HK has built a diversified business spanning eight countries across the continent.
He founded Janus Continental Group, a leading African group that has an established presence in the petroleum, energy, hospitality and real estate sectors, employing 700 people.
HK believes that African entrepreneurs should be at the centre of strengthening Africa's key industries, extending their global reach, and creating better opportunities for people across Africa.
Source-https://humphreykariuki.com/
Cyprus set to revoke citizenship of Kenyan Billionaire Humphrey Kariuki