Joho Granted his Italian Wife Madina Giovanni the Divorce she Wanted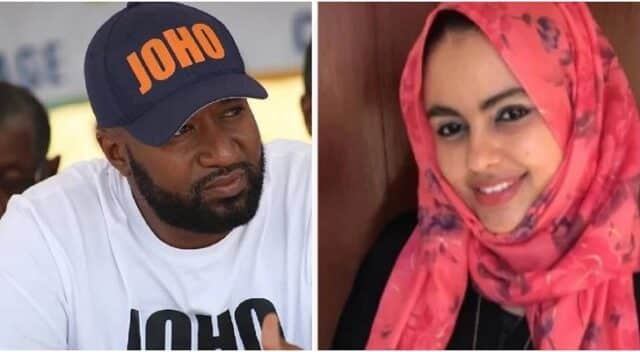 Mombasa Governor Hassan Joho has granted his Italian wife a divorce she had sought at the Kadhi court. Governor Joho signed a consent to end his marriage on Wednesday, February 16, 2022.
Madina Giovanni Fazzini filed for a divorce before Mombasa Chief Kadhis Court after nine years of separation from Joho.
Fazzini filed the case on January 26, 2022, and wanted the court to dissolve the marriage stating that it was irretrievably broken with no hope of reconciliation.
"I am clear and unequivocal that our marriage has broken down irretrievably with no chance of revival given we have both moved on over the years.
"Since the respondent, Joho moved out of our matrimonial home in June 2013, the substance of our marriage has dissipated and has no basis to be sustained from a legal and social standpoint," Fazzini said in her affidavit filed in court.
The two got married on February 11, 2011, and they have two children aged nine and eight years.
Source-https://www.nairobileo.co.ke/
Hassan Ali Joho is a Kenyan politician and the former Governor of Mombasa County affiliated with the Orange Democratic Movement. He was also elected to represent the Kisauni Constituency in the National Assembly of Kenya during the 2007 Kenyan parliamentary election.
On 4 March 2013, during the general election, Joho was elected as the first governor of Mombasa County.In the 2017 General Elections held on 8 August, Joho retained his seat on an ODM ticket.
Despite significant politically engineered setbacks, Joho emerged triumphant by winning with 220 576 votes against his closest rival Suleiman Shahbal with 69 322 votes, Suleiman is a member of the Jubilee Party.
Joho served as governor of Mombasa until 2022 when he completed his ten year term paving way for his successor Abdulswammad Sharrif Nassir the former member of the National Assembly for Mvita Constituency.Wikipedia
COURT ALLOWS MILLIONAIRE ITALIAN WOMAN TO DIVORCE KENYAN MAN
Photos: Joho's Italian Wife Madina Hassan who keeps a low profile
Why Joho's Italian Wife Madina Giovanni Fazzini Want A Divorce
Joho Granted his Italian Wife Madina Giovanni the Divorce she Wanted