Order Yours: A Delicious Taste of Our Projects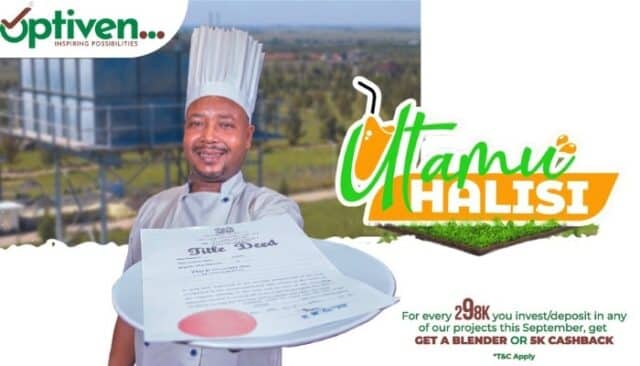 Happy New Month! This time Optiven Group is presenting you with yet another opportunity to indulge in their diverse menu of property flavors.
Serving Kenyans for the last 22 years, Optiven has perfected the art of preparing their projects with only the finest ingredients such as solar street lights, air purifiers, reliable water and electricity, a state-of-the-art gate, fence with manned security and caretakers just to mention a few.
What is your investment appetite? Optiven have projects all over that will whet your palette, from as low as KES 298K.
Topped up and seasoned with premium value additions, these plots are ready to EAT, ranging from 1-Star to 5-Star Level. So, if building your home is your recent plans, best believe that it will be as easy as pie!
Find Out more about Optiven Group's Premium Value Additions >> https://bit.ly/LevelsOfValueAddition
For every piece of plot you bite, you shall get to experience UTAMU HALISI.
With a minimum deposit of KES 298K, you shall walk away with A BLENDER or a KES 5K CASHBACK.
Order Now
Together inspiring possibilities.
Contact Optiven Group
Tel: 0715 399 468
Email: [email protected]
Website: https://www.optiven.co.ke
Order Yours: A Delicious Taste of Our Projects