Hustler Fund Loans: Ruto says Sh1.2 billion has already been repaid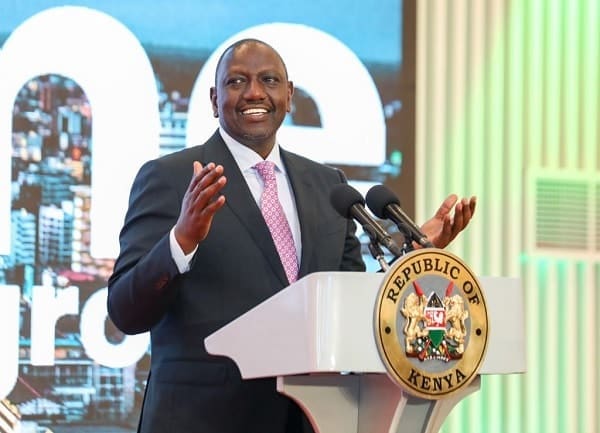 President William Ruto has stated that Sh1.2 billion has already been repaid by Kenyans who took loans from the Hustler Fund since it was launched on November 30.
Speaking on Monday, December 12, during Jamhuri Day celebrations at Nyayo Stadium Nairobi, the Head of State said that Sh7.54 billion have been borrowed from the fund so far.
The president further intimated that 15.4 millions Kenyans have already registered with the fund and Sh400 has been deposited in savings.
"In a record 12 days, today the Hustler Fund has 15.4 million subscribers. In just 12 days, the Hustler Fund has lend Sh7.54 billion. The hustler Fund has accumulated savings of close to Sh400 million in just 12 days. And the good news, today Sh1.2 billion has been repaid by Kenyans who borrowed on this platform," President Ruto said.
The Head of State said that the Hustler Fund provided a platform for millions of Kenyans who were looking for an opportunity to save.
He further said that Kenyans borrowing from the fund have not been derailed by critics, even as he called out the political class for criticizing the fund.
"My friends, you're borrowing your mortgage at 3 percent. Why do you want to derail the hustlers who today are suffering from shylocks and from predatory lenders who charge them 360 percent?" President Ruto posed.
He, however, said that the government had secured an agreement with lenders to shift to a credit scoring system that incorporates incentives for both lenders and borrowers.
By Clinton Nyabuto
Source-https://www.nairobileo.co.ke/
Four Types Of Hustler Fund Loans And Repayment Plans
Personal Loans
Personal loan limits will be capped at a minimum of Ksh500 to a maximum of Ksh50,000 which will be determined by the borrower's credit score.
Credit limits for personal loans will be increased depending on a person's performance, that is, their consistency in borrowing and repaying without defaulting.
"The limit shall be reviewed and adjusted based on the borrowing and repayment history of previous Hustler Fund loans taken," the government stated.
Approved loans, which will be disbursed to a mobile money account, will attract an interest rate of 8 per cent per year, computed on a pro-rated basis.
Groups
For small groups, Ruto noted that the loan limit for set between Ksh50,000 to Ksh500,000.
He indicated the government would increase the amount to Ksh10 million after a successful trial.
Unlike other credits, the government will not apply the processing fee before approving the loans.
However, the beneficiaries will receive 95 per cent of the loan. The remaining 5 per cent will go into a personal savings scheme.
"The savings scheme will split savings into 70 per cent long-term and 30 per cent short-term savings," the government explained.
Requirements
Successful applicants must be Kenyan citizens above 18 years. They must also have a valid national Identification Card (ID) and registered mobile number from a recognised mobile network operator in the country, among others.
How to Repay
Loans repayment will be made from the mobile money account. Through this process, one can repay the debt amount.
Hustler Fund Loans: Ruto says Sh1.2 billion has already been repaid