827 KQ staff face vetting ahead of direct flights to America
Kenya Airways employees summoned to appear at the US embassy for vetting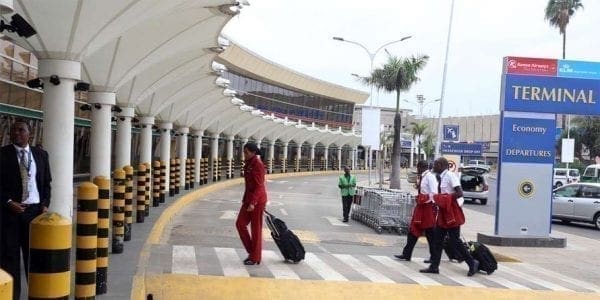 More than 820 employees of Kenya Airways have been summoned to appear at the US embassy in Nairobi for background checks ahead of the national carrier's maiden flight to New York in October.
US authorities said the vetting of airport workers and flight crews with access to secure areas of airports and airplanes is being done as part of routine aviation safety measures.
Kenya Airways asked its employees to prepare for the vetting in a June 7, 2018 memo that also names the US embassy in Nairobi as the facilitator.
"In preparation for direct flights to New York we have reached an agreement with the American Embassy to facilitate the process for flight and cabin crew," the memo said.
Also Read
CompaniesCo-op Bank seeks to scuttle Suraya's deal with contractor
CompaniesTuskys instals DTB cash machines for deposits
Only those who have no criminal records and are not on government watch lists are allowed to form part of a carrier's team that can fly to the US.
Kenya Airways said only the agency that undertook the vetting would be in a position to offer information regarding the process.
"That said, no employee has been sacked or suspended," the airline added.
Among those that were scheduled to be screened are 595 flight attendants and five cabin managers.
KQ plans to fly from Nairobi's Jomo Kenyatta International Airport (JKIA) at 10.30 p.m. every day to New York's John F. Kennedy International Airport (JFK), targeting tourists and business travellers.
The long-haul flights will last 15 hours and the national carrier is expected to deploy its Boeing 787, also known as Dreamliners, on the route. The 15 hours represent a seven-hour reduction from the current flight time of over 22 hours, including lengthy stopovers.
KQ's management anticipates that direct flights to the US will increase its annual revenues by 10 per cent beginning 2019.
Passengers travelling to JFK will arrive at 6.30 a.m. in time for morning meetings, while the return flight from JKF will depart at 1.30 p.m. and arrive in Nairobi at 10.30 a.m. the following day.
Each trip will have a maximum of 234 passengers — 204 in Economy and the rest in Business Class.
With about 100,000 tourists visiting Kenya every year for leisure and business, the US remains the top source of visitors coming to Kenya from the Americas, according to Kenya Tourism Board (KTB) data.
Kenya has recently implemented a raft of recommendations by the US government to enhance security, among them separation of passenger arrival from departure terminals, clearing the flight path and fencing off the airport.
As a result, the US Federal Aviation Administration (FAA) last February gave Kenya the Category One rating, paving the way for direct flights subject to issuance of other permits to the airport and Kenya Airways.
JKIA's longstanding second-class status forced passengers flying from Kenya to the US to transit through Europe, the Middle East or the four African countries — South Africa, Ethiopia, Cape Verde, and Nigeria — whose airports have the designation.
Airlines plying the JKIA and JFK route include Turkish Airlines (through Istanbul), Qatar Airways (through Doha), British Airways (through Heathrow), KLM (through Amsterdam) and Emirates (through Dubai and/or Italy).
Ethiopian Airlines and South African Airways also have flights to the US while RwandAir hopes to commence similar flights later this year.
KQ's foray into the US comes at a time when the airline is still facing major capital shortfalls, which has seen it moot a merger with the Kenya Airports Authority (KAA) to share costs.
Through a public-private partnership (PPP) that could be signed by September, the national carrier will take over all the staff and operations of the KAA in a move that will at once expand its services to include ground handling, maintenance, catering, warehousing and cargo. It is also envisaged that a special economic zone will emerge around JKIA.
The government will further support the joint venture by exempting it from certain taxes and allowing it to retain several levies in a strategy that will stem KQ's financial haemorrhage in the short term and bolster JKIA's status as an Africa aviation hub in the long term.
-businessdailyafrica.com