Lucrative IT Jobs Awaits Our Beneficiaries After Masters-Kenya Airlift Program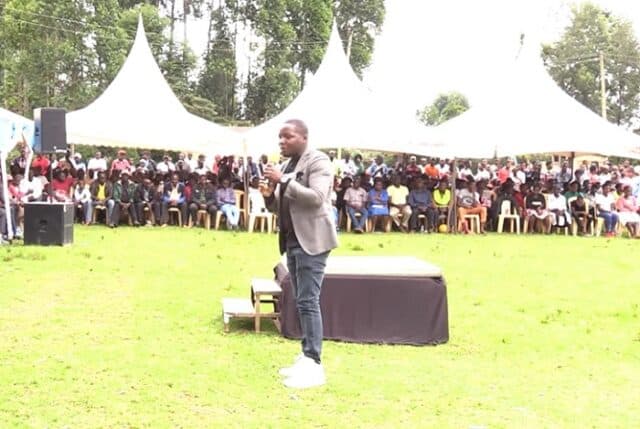 Hundreds of thousands of people from all walks of life seek to study, live and work in the US every year. However, some of these attempts end up unsuccessful with some of these people ending up struggling there if they make it through without a proper plan especially on school to work transition for international students.
The KENYA Airlift Program stands out from other avenues of studying abroad in that it offers a concrete plan of working there after graduation. This is through amazing IT skills students in the program are equipped with aside, as they study their masters. These skills enable them find well-paying jobs in corporate America.
Through these jobs, they are able to acquire a permanent American citizenship as well as other lifechanging opportunities that brings about personal and societal transformation as Wilfred Mwiti puts it in an event to enlighten Kisii residents on the award-winning program.
This video provides more insights on the same
To learn more about this program, please visit www.kenyaairliftprogram.com
The Kenya Airlift Program (KAP) is an award-winning initiative that helps brilliant Kenyan students achieve the dream of studying in the US regardless of their financial background.
We only accommodate ambitious, and incredibly talented Kenyans who are willing to take a leap of faith in joining the tech industry by studying STEM or business-related master's programs. One can join us with ANY undergraduate degree major.
The KENYA Airlift Program was founded in late 2018 by Bob Mwiti and Hon DMK Kiogora. The organization helps brilliant Kenyan students achieve the dreams of studying in the North America regardless of the students' financial background. This mission is achieved through Key partnership with MPOWER Financing as the official lending partner for unsecured student loans that cover both tuition and living expenses, partnership with Universities in North America where the organization negotiates tuition fee waivers, and partnership with The Airlift Sacco to help finance student's relocation expenses-https://www.kenyaairliftprogram.com/
Lucrative IT Jobs Awaits Our Beneficiaries After Masters-Kenya Airlift Program