Kenyan Diaspora Elizabeth Kangethe has won concillor seat 4 times in Britain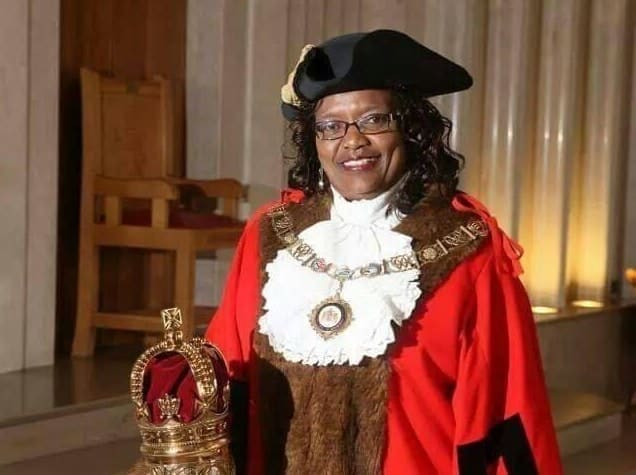 A Kenyan-born United Kingdom (UK) politician is one of longest serving politicians in Britain after winning four elections.
Elizabeth Kangethe who is the councillor of Parsloes Ward in East London has remarkably won the seat four times.
She first won the seat in 2010 when she ran on a Labour Party ticket paving way to a long-decorated career in politics.
In what currently remains the peak of her career, she was elected as the Mayor of the London Borough Council in 2014 becoming the first Kenyan to be elected as a mayor in the United Kingdom.
"I have also been the chair of the assembly which is equivalent to a speaker in Kenya," she revealed her other successes in UK politics during an interview with Chams Media's Alex Chamwada on Saturday, March 4.
Currently, she is a cabinet member in charge of educational attainment and school improvement in the London Borough Council.
The current assignment is in line with her earlier career in Kenya which was in academia.
Born and raised in Kiambu, Kangethe trained as a teacher and was posted in Turkana as a headteacher at the tender age of 24.
She later relocated to the United Kingdom in the 90s where she enrolled for a teaching degree at the University of East London.
In a past interview, she revealed that while working as a teacher in Kenya, she was able to work with the electoral commission and interact with politicians.
"That bore the desire in me to become a politician," she revealed why she contested for the ward seat.
Unlike in Kenya where individuals spend a fortune in pursuit of a political seat, it is a different scenario in Britain.
In the four political contests she has been in, Kangethe reveals that she has never used her personal money to campaign.
"Here in the UK, you do not spend a single coin. All your fliers and movement are catered for by the party," she told Chimwada.
She further added that if you are caught using your own resources, you are automatically disqualified from the race.
On how one can get party funding, she explains, "You have to be a member of a political party and be active for not less than six months before expressing your interest to contest."
Unlike in Kenya where politicians go to party primaries to choose the flag bearer, in the UK each party in the UK has an independent commission that vets applicants to decide who will run on the party's ticket.
Kangethe in testament to her political tenacity has emerged as the Labour Party's preferred candidate for 2010, 2014, 2018 and 2022 Parsloe Ward ticket.
By KIOKO NYAMASYO
Source-https://www.kenyans.co.ke/
Kenyan Diaspora Elizabeth Kangethe has won concillor seat 4 times in Britain