Nyambane's Second Wife Linda Muthama speaks out-Photos
Nyambane's Second Wife Linda Muthama speaks out-Photos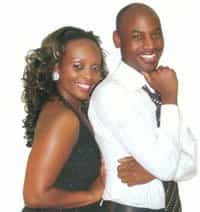 Saturday August 4, 2012 – This month's cover on True love magazine has become the talk of town.
Controversial singer Linda Muthama was a finalist in Tusker Project Fame.
She left tongues wagging after she confessed to having had a relationship with comedian Nyambane having  full knowledge that he was married and had kids.
In this month's issue of True Love, Linda is very unapologetic and candidly refers to Nyambane as the love of her life.  She is proud to state that she is his second wife.
In a previous interview on a local daily Linda claimed, "I am aware that he is a married man and I respect that. His wife and kids are my close friends and they understand that I am part of him. We talk a lot with his wife."
She added, "Walter is not a mpango wa kando. Our relationship is deeper than that. I'm his friend and girlfriend… everything put in a box. He understands me beyond any other man."
Rumour has it that she stuck on Nyambane who was then a breakfast show host on Kiss 100 after she rose to fame during TPF. However Linda vehemently denied this.
"I met him way before Tusker Project Fame (TPF). Good people make their intentions known from the start. We had chemistry from the word go."
She talks of his love for ugali and osuga (bitter greens) and mala.
On Facebook and Twitter women have risen up against her terming her as a husband snatcher. Some claim that she took a made man and she should look for her own man.
Regardless of what the media says, Linda insists that Nyambane will always be the love of her life.
Do you think Linda is guilty of whisking away Nyambane from his family?
Source:The Kenyan DAILY POST