Starehe MP Bishop Margaret Wanjiru's Bible degree questioned
Starehe MP Bishop Margaret Wanjiru's Bible degree questioned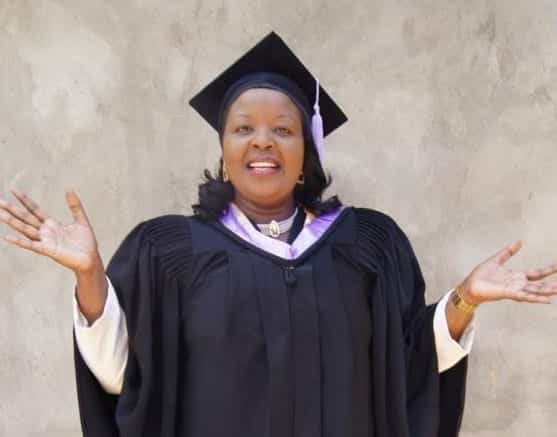 The Kenya Commission for Higher Education has rejected the educational qualifications of Bishop Margaret Wanjiru, Starehe MP and assistant Housing minister.
As a result, Bishop Wanjiru is unlikely to be able to contest for Nairobi governor in March as she is not considered a graduate. The Independent Electoral and Boundaries Commission stipulates that all candidates for governor must be "a holder of a degree from a University recognized in Kenya."
Wanjiru received the degree of Doctor of Theology from Vineyard Harvester Bible College on July 13, 2003. On October 26, 2010, she received a bachelors degree in Christian Leadership from United Graduate College and Seminary International.
However on January 2, the Commission for Higher Education advised that "the degrees awarded are not recognised in Kenya."
"The Vineyard Harvester Bible College and the United Graduate College and Seminary International are not accredited in the United States of America by recognised accrediting agencies by the US Department of Education," said the CHE letter signed by Prof David Some, CEO and Secretary.
Specifically the CHE said the two colleges did not appear in the World Higher Education Database prepared by UNESCO and the International Association ofUniversities.
On December 31, lawyers MW Kamau and Co, wrote to the CHE requesting confirmation that the colleges were accredited.
Their letter also referred to her 1982 diploma in sales from the School of Sales Management; her certificate of proficiency in sales from the London Chamber ofCommerce and Industry; her 1979 East African certificate of education; and acertificate of attendance for a two week course in Managing Change at the Harvard Kennedy School.
Of her eight subjects at Decision Four, she only passed English Literature with a 6 Grade. The other subjects she failed with a Grade 9.
To make matters worse for Wanjiru, two ODM activists have written through theirlawyers to ODM electoral chairman Franklin Bett and ODM Secretary General Anyang' Nyongo.
George Otieno and Frederick Odhiambo want Wanjiru disqualified from being nominated as the ODM candidate for Nairobi governor.
"Our client would like to put the IEBC and the ODM elections board on notice that Bishop Margaret Wanjiru, a candidate who has presented her application for nomination for the post of Governor, does not possess the required academic credentials to allow her to contest as a candidate for Governor of the County of Nairobi," stated the letter from Ochieng, Onyango, Kibet and Ohaga on January 2.
The letter questioned how Wanjiru could have a received a doctorate before herbachelors degree, and asked how long she had spent studying at the two colleges. It also asked how she could be admitted to an institution of higher learning if she had not done A-Levels. Both Wanjiru's degrees come from 'virtual colleges' without any campus or physical address.
According to its website, The United Graduate College is 'accredited' by  The Worldwide Accreditation Commission of Christian Educational Institutions but that body is not recognised internationally, by the US Department of Education or by the Tennessee Higher Education Commission.
The website says that the college has provided e-learning since 1982 to 100,000 Christians in 50 countries around the world. Its Kenya representative is a Prof Nathan Kahara on Miliani (sic) Road, Nairobi.
According to its website, the Vineyard Harvester Bible College is accredited by the Transworld Accrediting Commission International but this body is also not recognised by American and international educational authorities.
The college offers online courses in Christianity. Its address is 40 Lake Creek Rd, Cedartown, Georgia which is a private house on a remote country road, according to Google Maps.
The Vineyard Harvester Church at 1890 Rome Highway, Cedartown is three kilometres away. Yesterday Wanjiru's mobile telephone went unanswered and she did not respond to our text messages.
Bishop Wanjiru's main rival for the ODM nomination for Nairobi governor is Dr Evans Kidero, former Mumias CEO and also chairman of the Star.
The most probably TNA candidates are stockbroker Jimnah Mbaru or Embakasi MP Ferdinand Waititu. Last year the IEBC released the qualifications  required to contest for county governor, based on the constitution, the Elections Act 2011, the Political Parties Act 2011, and Elections (General) Regulations 2012.
They specified that candidates must be a Kenyan citizen; must not hold dual citizenship; must be a registered voter; be a holder of a degree from a universityrecognized in Kenya; and be nominated by a political party or be an independent candidate.
Source:The Star
Starehe MP Bishop Margaret Wanjiru's Bible degree questioned