Uproar in Parliament over Ruto massage cartoon
Uproar in Parliament over Ruto massage cartoon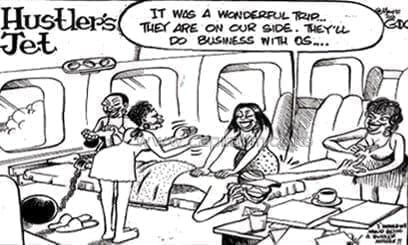 NAIROBI, Kenya May 22 – Women MPs are demanding an apology from a Kenyan newspaper because of a cartoon it published on Wednesday, which they claim lowers their dignity.
Led by Kenya Women Parliamentarian Association Chairman Cecily Mbarire, they say the Daily Nation cartoon by Gado which shows Deputy President William Ruto getting a massage was in bad taste for women MPs who accompanied him on a now controversial four-nation African tour.
"I want to demand an apology to all the lady Members of Parliament because we are here in our own right. We did not come here to massage anybody… we are here as Members of Parliament; and we want gender sensitive media, not people who look at us from the waist down and not the waist up."
Suna East MP Junet Mohammed was reprimanded by Speaker Justin Muturi after he said that only the women MPs who accompanied Ruto on the trip could clarify the matter.
"I really condemn what this cartoon is trying to portray, but the members who travelled can tell us better," he said.
Majority Leader of Coalition Aden Duale sought to have Mohammed disciplined for imputing improper motive on the character of fellow legislators.
"Is it in order for a Member of Parliament to stand up in this House and put very bad motive on his own colleagues, Mr Speaker? It is very, very shameful," he said.
Mbita MP Millie Odhiambo urged the Speaker to ensure the media gives Members of Parliament equal coverage.
"I am not too sure that there is anything there that seems to suggest that those are female MPs who are massaging. My concern is if they put a cartoon of women massaging William Ruto, then I want to demand that they put a cartoon of me being massaged by male MPs."
Speaker Muturi refused to be drawn into the making a ruling and asked MPs who felt aggrieved to petition the House Committee on Parliamentary Broadcasting to look into the matter and file its recommendations after 14 days.
Uproar in Parliament over Ruto massage cartoon