Kenyan standup comedian making waves in UK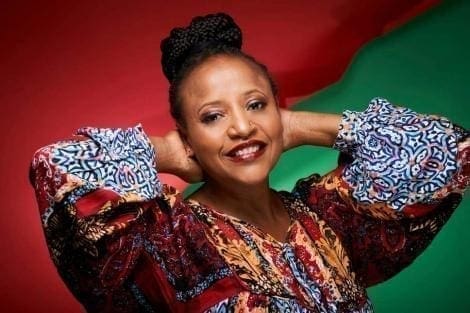 Comedian who headlined at 10th Black Comedy Awards is one of a number of African-born rising stars.
Njambi McGrath's first standup comedy gig was a disaster. In a half-empty club in London, her audience was as ill at ease with her jokes about Africa as she was delivering them.
"I did one set. It was terrible," is how she sums up her first attempt to break into the comedy circuit.
McGrath persevered, in part, because of her upbringing in Kenya. "When you grow up in Africa you see people in much, much more difficult situations than you could ever be in and they just keep going," she said during a break at this month's Black Comedy Awards.
Three years later, the thirtysomething is making a name for herself in an industry few black African women have successfully cracked. Headlining the awards, she opened a raucous set by pinpointing where her east African birthplace is located.
"Kenya is a country just south of the axis of evil, to the east of the new corridor of terror, and right next door to jihadist cavemen." Pausing for a second, she added: "Of course, this is no way to introduce oneself to immigration officers."
One of a rising number of African-born comedians making waves in the UK, McGrath says the shock of seeing how the continent was portrayed when she moved to England three years ago encouraged her to use a comic touch to raise serious issues.
"The portrayal of Africa abroad – I didn't recognise it at all. I thought I would play around with that because a lot of people don't realise that there is humour everywhere in Africa. We see comedy everywhere, sometimes because it is the only way to make sense of things," said McGrath, who says her background gives her the freedom to sail close to the wind when poking fun at stereotypes.
"I had a Somali boyfriend but it didn't work out. He was only ever interested in the shipping forecasts," is another joke – a reference to cliches about Somali pirates – that triggered loud laughter among the almost entirely black and Asian audience.
But even offshoot circuits are no guarantee of success. Two years ago, the Black Comedy Awards scrapped a category for best female newcomer under 30 because "we weren't aware of more than one or two people in that category", said Michael Peters, the event's organiser.
The prize was reinstated the following year – this time without the age restriction – but Peters admits it worries him that so few black women are breaking through the ranks.
McGrath believes class may play a bigger role than race in how audiences respond. "At the end of the day, people who don't like my jokes don't understand my sense of humour. I don't think race is anything to do with it."
Alongside the Kenyan comedian Eric Omondi and Shazia Mirza, she lists Robin Williams as a key inspiration. Nevertheless, she says there are few black female comedians to look to as mentors.
For upcoming stars, that may be slowly changing. As the Black Comedy Awards – the only one in the UK – entered its 10th year, other African names featured included the Nigerian comedians Gina Yashere and Meet the Adebanjos, a show that light-heartedly deals with the clashes between first- and second-generation Nigerian family members who have settled in the UK.
Still, even as standup comedy is booming among black audiences, the scene's giant strides are not reflected in the mainstream. Unlike in the US, where a thriving black entertainment industry exists, the UK is both more integrated and, in a way, more stifling, industry insiders say.
"The most popular Afro-Caribbean performers are people who cross over between the two audiences. If you're touring all over the country you have to have a set that translates well to non-black audiences," said Peters.
"But there's still a demand for black comedy because it's just a rare opportunity for black audiences to see themselves portrayed on stage."
More up-and-coming acts
Eddie Kadi
Born in the Democratic Republic of the Congo, raised in London, 31-year-old Kadi became a UK household name when he headlined the O2 arena two years ago. Counting Miss Dynamite and Tinchy Stryder among his fans, he has toured Nigeria and Ghana recently.
Kadi moved to London when he was eight, but still draws comedic inspiration from his Congolese heritage, flipping between living in Tottenham, north London, and the rattle of machine guns serving as "alarm clocks" as a child during the DRC's civil war.
Ikenna Azuike
The internet is also breaking barriers. Nigerian-British comedian Azuike's What's Up Africa, an antidote to Fox News's world view, has fans from Angola to Zimbabwe. The show has featured Teletubbies dancing to Nigerian hit tunes such as D'Banj's Oliver Twist and has also won fans in the UK.
In response to the claim by a Fox News presenter that Santa and Jesus were both white, Aziuke points out an "admittedly less-well-known but equally irrefutable fact" that Jesus was in fact from the Nigerian state of Jos, and his real name was Josus. The tendency of Jesus/Josus to wear robes known as agbadas, popular throughout Nigeria, is offered as proof.
Daliso Chaponda
This UK-based Malawian standup comedian's one-man show dances from colonialism to corruption to ivory smuggling, with a cartoon-like, razor-sharp delivery that has earned him spots at both the Edinburgh festival and South Africa's Jozi and Cape Town comedy festivals. After growing frustrated that he was better known outside Africa than on the continent, he launched his show in the Malawian capital of Lilongwe two years ago.
Other names to watch include Gina Yashere and Kojo the Comedian, AKA the Fresh Prince of Hackney, who have Nigerian and Ghanaian ancestry
respectively.-theguardian.com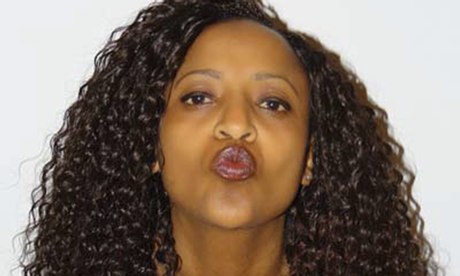 Kenyan standup comedian making waves in UK