How majority of Kenyans are oppressed-1979 court case still pending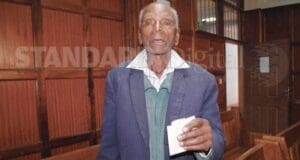 A 93 year old man still waiting for 1979 case:
NAIROBI, KENYA: One of the oldest cases in the Judiciary filed by a 93-year-old man and which has been pending in court since 1979 came up before a High Court Judge in Nairobi on Monday. Kiunyu Thogo, who filed the case on May 14, 1979, complained to the trial Judge Rose Ougo about the delay in determination of his case. The man has sued his former business partners for failing to share with him profits of a transport company formed in 1969. He threatened not to leave the court until the judge heard his testimony. Lady Justice Ougo pleaded with the old man to allow a lawyer who had been appointed on Friday by one of his former business partners to go through the court file. When the case was called out, the old man who was addressing the court in Kikuyu language said he did not want to hear anything about adjournment of the case. The lawyer acting for one of the defendants had explained to the court that he was appointed on Friday and he required more time but the old man was not amused by the request of the lawyer.
Lady Justice Ougo said the facial expressions of Mr Thogo could tell her the old man was not happy about the delay of the case. "Please go file the notice of appointment then come back for directions. I do not want battles with the old man," said the judge. The lawyer came back after 30 minutes. The old man insisted he wanted his testimony taken before he leaves for his home in Naivasha. "I am requesting this court to have my evidence on record. I need this case finalised because I am quite old," said Thogo.
MORE TIME
The judge through interpretation of the court clerk explained to Thogo that she appreciated his age and the long period the case had been in court but the other lawyer who took up the case on Friday had to be given time to prepare. Thogo, who was accompanied by his two grandchildren, agreed to come back on February 6, after a lot of persuasion from the judge. He also asked the judge to tell the lawyer for one of the defendants to come with company's bank statements.standardmedia.co.ke