William Ruto opposes summons of ICC witnesses
William Ruto opposes summons of ICC witnesses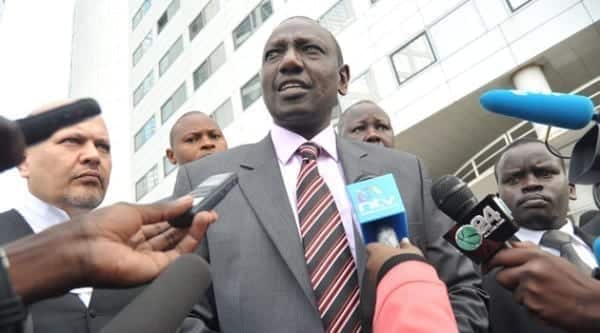 DEPUTY President William Ruto has opposed an application by ICC Chief Prosecutor Fatou Bensouda to compel the Kenyan government to send her seven witnesses living in Kenya.
The seven are "formerly cooperative witnesses" who left the ICC's protection programme and turned against the prosecution after their identities were disclosed to the defence.
They allegedly had first-hand information on the planning of post election violence which implicated Ruto and his co-accused broadcaster Joshua arap Sang.
Through his lawyer Karim Khan, Ruto argued that the government has no legal obligation to compel the seven to testify.
"The Request is a creative but legally improper attempt to place a duty on some States Parties, in this case the Republic of Kenya, to compel witnesses to appear and testify before the Court. The Court has no authority to seek State assistance to compel appearance," Khan said.
Ruto suggested that the government be merely requested to serve a summons on each witness.
He said that witnesses cannot be forced to appear against their will under the Rome Statute.
He added that the International Crimes Act of 2008 which implements the Rome Statute in Kenya does not provide for compulsion of witnesses.
"The plain wording of the section establishes that it is concerned solely with service of documents and not with the enforcement of the documents served," he said.
The seven witnesses are P- 0015, P-0016, P-0336, P-0397, P-0516, P-0524 and P-0495. Their identities were disclosed to the defence in February, March and April 2013.
In her application last December, Bensouda said that the witnesses had opted to leave their protection and return home.
"After their identities were disclosed to the defence, each either directly refused to continue to cooperate or discontinued communication with the Prosecution," she said.
She claimed that witness P-0015 later confessed that he was "kidnapped and forced at gunpoint to sign affidavit" withdrawing his evidence at the ICC.
"He also reaffirmed the veracity of his prior statements, withdrew his allegations of prosecutorial wrongdoing and repeated his willingness to testify," she said.
Bensouda complained that she has no statutory or practical power to summon the witnesses.
She said that the government had previously blocked her efforts to take evidence under oath from witnesses in Kenya.