Nigerian Prophet TB Joshua's New Prophecy on Kenya
Nigerian Prophet TB Joshua's New Prophecy on Kenya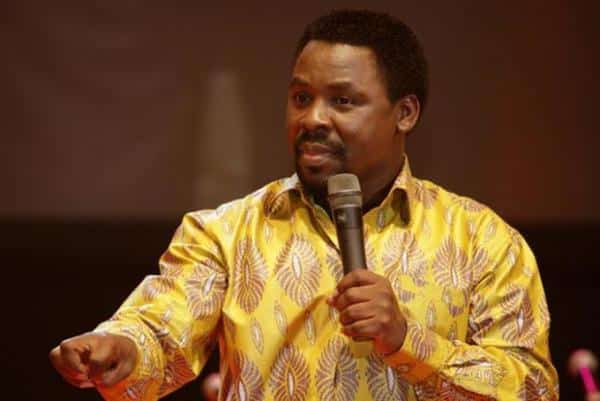 Nigerian bishop TB Joshua has made another prophecy on Kenya. Last Sunday while delivering a sermon in his church, the prophet said that God had showed him some 'strange people were in town to make big headlines'.
He advised the nation to be prayerful and tighten its security.
Hinting that it was something to do with terrorism, the prophet said, "We're having the same challenges here." referring to the constant attacks by Boko Haram.
Just two days after his sermon, an improvised explosive device went off at Pangani Police Station, killing 4 people, 2 of whom were police officers. It is not clear whether that's the blast TB Joshua was talking about.
It would be difficult to ignore the Nigerian Prophet, especially after he correctly foretold the death of Malawi president Bingu wa Mutharika in 2012. He also made another prophecy in 2012, about death of a leader in an African country through an air accident. Less than a month later, Prof. George Saitoti died in an air crash.
Here's TB Joshua's video from last week.
Rev 21:4 "He will wipe away every tear from their eyes, and death shall be no more, neither shall there be mourning, nor crying, nor pain anymore, for the former things have passed away."


Africa Welfare Association is a pioneer provider of services to it's Diaspora members in the event of loss of a loved one. We are entrusted with the welfare of the African Diaspora globally.
We are entrusted with the welfare of the African Diaspora globally. AWA was set up in response to the ever-growing demand for services at a critical time. With trusted partners, AWA will offer you benefits wherever you are in the world.
Alleviate stress with AWA
At some point, we have been with a grieving family or friend and come to learn that none of us are ever prepared to leave this world. When the time comes, we shall leave everything including our loved ones behind. With proper planning, you can alleviate the burden of the expense associated with your untimely departure at a time when your family and loved ones are grieving
Nigerian Prophet TB Joshua's New Prophecy on Kenya