RAILA ODINGA WILL RUN IN 2017, SAYS OBURU OGINGA

RAILA ODINGA WILL RUN IN 2017, SAYS OBURU OGINGA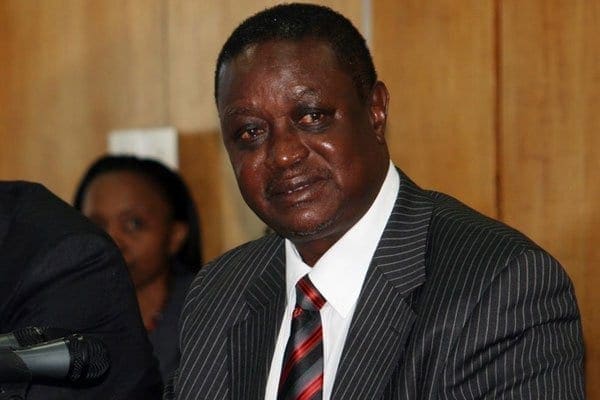 THE Cord coalition was yesterday thrown into a spin after ODM leaders announced that Raila Odinga will contest the presidency again in 2017 and simultaneously accused Ford Kenya leader Moses Wetang'ula of undermining ODM in Nyanza.
Wetangula, one of the three Cord principals in 2013, has already announced that he intends to seek the Cord presidential ticket in 2017 while Wiper MPs have asked Raila to support their leader Kalonzo Musyoka, the third Cord principal, in 2017.
"He will run again in 2017," Raila's elder brother Oburu Oginga said in Narok yesterday.
Raila unsuccessfully contested the presidential elections in 2007 and 2013 but on both occasions there were allegations of vote rigging
"I am wondering at those saying that he should quit politics because of his age yet former president Mwai Kibaki ascended to power when he was 73 years. I am his older brother and I am still young. Raila has not even reached 70 years," said Oburu. He was attending the burial in spoke in Konoin of Elizabeth Kotut, mother of Bomet County ODM chairman Ronald Ngeny.
Oburu said that ODM is planning to reach out to the Kalenjin before 2017.
"We want you back to ODM because all of us formed this party. ODM is still popular and cuts across all tribes, unlike other parties which are self-centered on tribal lines,"said Oburu.
However the Cord coalition has been under great strain over which parties can field candidates in safe Cord areas.
A pre-emptive grab by ODM for the Cord presidential nomination in 2017 might strain the coalition to breaking point.
In a sign of tension, Suna East MP Junet Mohammed yesterday called a press conference in Nairobi to accuse Wetang'ula of "engaging in shadow boxing."
Junet demanded that Ford Kenya relinquishes either the position of Senate Minority Leader, occupied by Wetangula, or ODM deputy chief whip in the National Asembly, occupied by Chris Wamalwa.
"ODM got a raw deal in this coalition. We cannot be led by people who have just 10 MPs in parliament. Ford Kenya must relinquish one of its positions to ODM," said Junet who is known to be close to Raila.
"ODM cannot leave under the tyranny of minority parties any more," Junet said.
The crisis has been precipitated by Wetang'ula insisting that his Ford-Kenya party will field Jared Okello in the Nyando by-election because he is more popular than ODM candidate Fred Outa who lost the seat through a petition.
Over the weekend Homa Bay senator Otieno Kajwang attacked Nairobi governor Evans Kidero for allegedly backing Jared.
Yesterday Kidero confirmed, "If Raila runs again in 2017, I will support him fully as I have always done in the past."
"Our candidate is popular and we are sure we will win the seat and this will be the will of the people of Nyando," said Wetang'ula yesterday.
Ford-Kenya may also give ousted Migori governor Okoth Obado a direct nomination to defend his seat against an ODM candidate.
Junet faulted Wetangula's stand saying it went against the post election pact signed between the parties in Naivasha after the 2013 elections.
He said ODM supported Ford Kenya during the Bungoma senatorial by-election last December so it should support ODM in Nyanza.
"ODM has been lenient for a long time. We need to renegotiate the post election pact so that the party gets what it deserves. Wetang'ula got two or three political seats in Nyanza. He should consider this as a political accident rather than the norm," Junet said.
He insisted that Nyanza should remain an exclusively ODM zone.
"Wetang'ula should resign as the Leader of Minority and then field a candidate in Nyando. Let us see where that will take him," said Junet.
Yesterday Oburu added his voice to Kajwang and asked Nairobi governor Evans Kidero to resign from ODM.
"If Kidero has decided to work with other parties, he should resign immediately and we go for by-election instead of causing wrangles and divisions in the party," Oburu said.
However Kidero's allies insist that he has done nothing wrong.
"There is nothing wrong with Kidero supporting a candidate within the coalition. Ford Kenya is in the Cord coalition," said a source close to Kidero.
RAILA ODINGA WILL RUN IN 2017, SAYS OBURU OGINGA