Korean Air suspends flights to Kenya over Ebola risk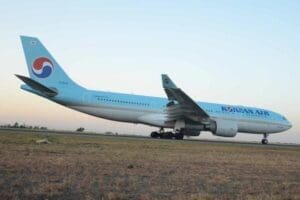 Korean Air said Thursday it will suspend flights to and from Nairobi from August 20, 2014 to prevent the spread of the deadly Ebola virus.
Korean Air said it had been operating three return flights from Incheon, South Korea, to the Jomo Kenyatta International Airport in Nairobi a week.
"From August 20, flight to Nairobi will be suspended temporarily. Please stay tuned for more updates," a tweet posted by Korean Air stated.
Tourism Cabinet Secretary Phyllis Kandie said Thursday the government will seek a review of the suspension of the direct flights by the airline to Kenya.
"We will engage with @KoreanEmbassyKE and @KoreanAir_KE in a hope to review the suspension of direct flights to #Kenya," she posted.
The move by Korean Air comes two days after travellers raised concern over "poor" screening of passengers from Ebola-hit countries at JKIA.
Kenyans returning home turned to social media to protest at the lack of proper screening at the JKIA and urged airport bosses and airline managers to protect the public from the deadly disease that has caused panic across the world.
-nation.co.ke