In case you missed: Uhuru appoints Kenneth Marende to lead AU peace team
In case you missed: Uhuru appoints Kenneth Marende to lead AU peace team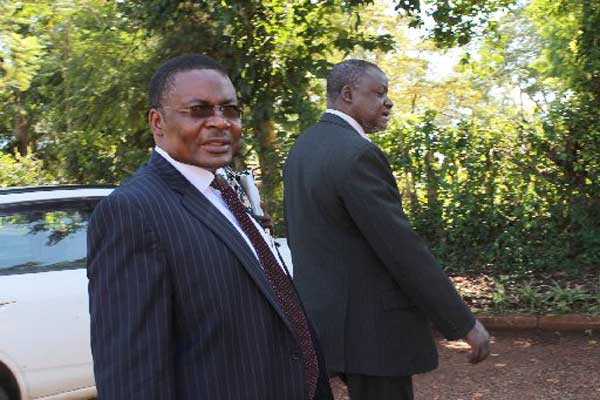 President Uhuru Kenyatta has quietly appointed former House Speaker Kenneth Marende to lead peace talks on war-torn Central African Republic.
Mr Marende was appointed last month to head ongoing negotiations under the auspices of the African Union (AU). He is being assisted by Lieutenant-General (retired) Njuki Mwaniki.
Mr Marende's new assignment comes months after he publicly expressed willingness to work with the Jubilee administration.
Sources say the two Kenyan envoys earlier this month separately met warring factions from CAR in Nairobi and Congo Brazaville to agree on rules of engagement.
The development will certainly ruffle feathers within the opposition Cord, given the fact that Mr Marende was supported by ODM, an affiliate party of the coalition, in 2007 to become the Speaker.
Earlier in the year, Mr Marende was being touted as the possible replacement of former Industrialisation minister Henry Kosgey as party ODM chairman, an offer he declined.
He also made an attempt at defending his Speaker's seat last year, losing to Mr Justin Muturi, who garnered 219 votes compared with 129 Cord MPs who voted for Mr Marende.
The Sunday Nation learnt that the mediation team will be submitting periodic reports of progress to AU offices in Addis Ababa, Ethiopia, as well as to Deputy President William Ruto on behalf of President Kenyatta.
CAR, a country of five million people, has been caught up in internecine violence that has lasted two years now. According to the United Nations estimates, over 5,000 people have died in the process.
This week alone, at least 20 people lost their lives in a conflict that the skeletal UN-backed peace-keeping mission deployed in April has failed to contain.
The UN has approved a further 7,000 peacekeepers, who are expected to arrive in early 2015. The ongoing war pits Muslims against Christians.
In December 2012, an armed opposition alliance known as Seleka began to advance across the country in protest to the ouster of President François Bozizé, who later fled to Cameroon. In March 2013, they entered the capital city, Bangui, seizing control of the country and triggering a period of widespread violence.
 The situation deteriorated in December 2013 when clashes erupted between the Seleka alliance (it has since been dissolved) and anti-Balaka groups, composed of armed fighters that oppose ex-Seleka forces.
Analysts say Mr Marende's appointment is part of a strategy lately adopted by Mr Kenyatta to keep raiding opposition strongholds, intent on winning support ahead of the 2017 presidential elections in which he is widely expected to defend his seat.
This week, Mr Marende was also elected to the Kenya Power board, in what further signals a closer dalliance with the Jubilee administration.
The polling results show that the government supported his bid and that of two others, given that the State's 50.08 per cent stake is crucial for anyone to sail through as a director of the power utility firm. He received the highest number of votes in an election that saw all former directors shown the door.
"Jubilee has been keen on getting strong people from Cord, although I expected Mr Marende's appointment to government to come earlier. Given reports that they were grooming him to become the next Chief Justice, this new role is rather obscure. The weight is not in the appointment; they are just sending a signal that 'he now belongs to our camp'," said Prof Fredrick Wanyama, Director of the School of Development and Strategic Studies at Maseno University.
The former Emuhaya MP is not the first person from the opposition that Mr Kenyatta has handed a job this year.
Former Kajiado Central MP Joseph Nkaissery, elected on an ODM ticket, is now the Interior Cabinet Secretary, while Rongo MP Dalmas Otieno, formerly of ODM, is a special envoy in South Sudan, another country writhing under sectarian violence.
ODM angrily reacted to Mr Kenyatta's move. Talk has also been rife that UDF leader Musalia Mudavadi and new Ford-Kenya leader Eugene Wamalwa are within Mr Kenyatta's radar for state appointments.
Mr Marende had been out of the limelight since last year but in recent months he has been at the forefront of efforts to forge Luhya unity aimed at giving the former Western province bargaining power in national politics.
-nation.co.ke