KIDERO DEFENDS CITY OFFICIALS WHO 'APPROVED LANGATA FENCE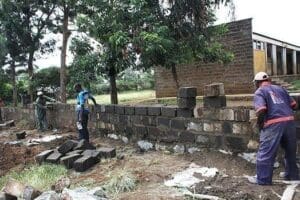 City County officials authorised the construction of the perimeter wall on the disputed Lang'ata Road Primary School playground.
At the same time, former Nairobi Mayor Geoffrey Majiwa denied owning the controversial plot or having been involved in its allocation.
The Department of Urban Planning and Housing on December 11, last year, approved a proposal by Airport View Housing Ltd to erect the wall.
On Tuesday, Nairobi Governor Evans Kidero defended the officials, saying they approved the request based on the ownership documents the firm presented, which appeared genuine.
FAKE DOCUMENTS
Dr Kidero said that only after crosschecking later did they discover that the documents were fake.
Nairobi News had earlier reported City County officials facilitated the hiving off of the land and approved the setting up of the wall with correspondence showing that they were aware of the disputed ownership.
However, during an interview with Nation FM, on Monday, the county executive committee member for Lands, Housing and Physical Planning, Mr Tom Odongo, said they did not authorise the construction.
"The wall was built during the long holiday," he said, adding that they treated the construction as un-authorised development but they could not demolish it as Airport View Housing had obtained a court order restraining the county government from pulling it down.
Mr Odongo said they were planning to go to court to seek a revocation of the order.
Mr Majiwa, who was the City Mayor between 2008 to 2010, said the disputed land had never been the property of the defunct city council for him to have taken part in its allocation.
OFFICIALS COLLUDED
"This is government land, which can only be allocated by the Commissioner of Lands," he said by telephone.
Meanwhile, the City Assembly committee for Education has demanded that action be taken against the officials who colluded with the developer to grab the school's land.
Addressing a press conference outside the assembly chambers, committee chairman David Kitavi said the officials were known and should face disciplinary action immediately.
-nairobinews.co.ke