Joho bows down to pressure, sacks 55 'corrupt' officers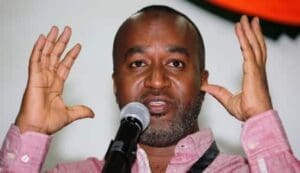 Kenya: Mombasa Governor Hassan Ali Joho Friday sacked 55 county employees over corruption allegations.
"This morning, I dismissed 55 inspectorate officers from duty, due to their indiscipline, corruption, extortion, harassment of the public and desertion of duty," a statement from the Governor said.
The radical move comes barely two days after clerics petitioned the governor to take stern action against corrupt officials in his administration who were extorting money from religious leaders.
The clerics revealed that they are always forced to bribe county officials to get permits and approval for construction of their buildings.
To address the problem, they asked the Governor during a meeting on Tuesday that he should crack the whip.
Yesterday, Joho said his administration will not tolerate corruption and corrupt officials.
Professionalism
The Governor has also directed an audit on county employees to determine the ethnic and religious composition of the employment structure.
In a statement to newsrooms, Joho stressed that the county will not allow any official to tarnish the image of the county.
The Governor directed acting Director of Inspectorate Charles Changawa, to remove the 55 officials from the county payroll and constitute a team to ensure the officers are taken to court.
The sacked officers have further been ordered to return all county belongings including official uniforms and equipment.
The Governor urged all inspectorate officers to execute their duties with high level of courtesy, respect and professionalism, warning that any officer whose character will be found wanting will be dealt with accordingly.
Meanwhile, Mombasa County Commissioner Nelson Marwa has contacted the Ethics and Anti-Corruption Commission (EACC) to investigate allegations that there are some police officers in Likoni involved in corrupt dealings and illicit drugs trade.
"I have contacted detectives from the EACC to investigate some officers in Likoni who have been collecting money from drug lords and peddlers," said Marwa.
According to the county commissioner, the officers operating at Shelly Beach have been seen in the company of drug peddlers in civilian's clothes conducting their business.
"When it reaches 4pm, the officer's change from their police uniform and leave for Shelly Beach aboard a rickshaw (tuk- tuk) where they go and collect money from drug peddlers," said Marwa.
"These officers are involved in illegal blood money which is killing our children," said Marwa.
"We cannot allow a few officers to tarnish the name of the entire police force," said the tough talking Marwa.
Marwa also cited an incident where an administration police officer —Abdul Waqo — was arrested in Tudor after allegedly trying to bribe the inspectorate officers in Mombasa to release six suspect arrested in possession of 75 rolls of bhang, 28 sachets of heroin and 10 Rohypnol pills.
"There are some few police officers tarnishing the good reputation of the police force despite the fact that they have been given a mandate to protect wananchi. They are colluding with drug dealers to frustrate the war on drugs," said Marwa.
"These officers are involved in illegal blood money which is killing our children,"he said.
Marwa has also called for investigations into suspicious dealings in police stations which involve canvassing for jobs. The commissioner said there has been an increase in the number of youths that visit police stations leading to suspicion that they may be canvassing ahead of the police recruitment set to commence next week.
"We have observed that the number of youth visiting police stations has been on the rise. We suspect that some people are lobbying to secure jobs in the forces," he said.
"We are investigating this and any person who will be found guilty will be arrested and prosecuted," warned Marwa. The Mombasa police boss also stated that the police will be vigilant in overseeing the recruitment exercise to ensure it is successful.
"Some people are going to the extent of selling their land for their children to join the police service. We want to ensure that all Kenyans even those from poor backgrounds receive equal treatment," he said.
He urged the recruits who had been selected in the previous exercise to show up and participate in the new drive.
-standardmedia.co.ke