HOW A LAME DUCK PRESIDENT KIBAKI SKUNKED THE ODM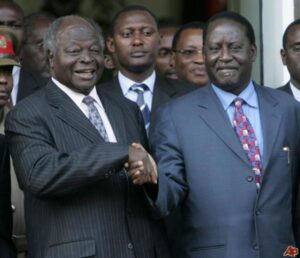 Following the results of the 2005 Kenyan constitutional referendum on 21 November 2005,President Mwai kibaki suffered a shameful defeat.This gave Raila Odinga an overwhelming ambition of using referendum victory to launch the Orange Democratic Movement commonly known as ODM for 2007 General Election.
ODM won back the control of Parliament's majority in 2007 disputed General Election,but the well-oiled Mount Kenya Mafia, finely tuned President Kibaki State machinery and media management machine ran over the ODM ever since.
NARC government economic legacy and free primary education initiative approval was an upward trajectory in five years since President Kibaki was elected as a President in 2002.
But more importantly,since suffering a resounding defeat in 2007 General Election,President Kibaki and his strategists decided to play offence and forced the victorious ODM to play defense.By making a string of populist and inviting ODM-K lead by Kalonzo Musyoka to join the PNU.
Amid a violent crisis over the results PNU -ODM-K received tons of positive media publicity after Kalonzo Musyoka was Appointed as a 10th Vice president of Kenya.Kalonzo expressed gratitude to president Kibaki and referred to the ongoing Election dispute and violence "Intensely aware that the appointment has came at a difficult time when our nation is going through painful moments"
Among the president Kibaki proposal and actions were :
-move toward normalizing the country after the violence
-overnight re-tallying of results
-Taking control of the Armed forces and being alert of any attemp Coup De'tat
-Riot police sealing off the tallying center ahead of results announcement
-Evicting different party's agents, observers and media and allowing only State Broadcast media station KBC to air the proceedings
-Moving the arrogant chairman of Electoral Commission of Kenya (E.C.K.) the Late Samuel Kivuitu to another private room where Kivuitu declared Kibaki the winner by 4,584,721 and Raila Odinga second by 4,352,993.
– Tightening security and giving Samuel Kivuitu and Chief Justice Evans Gicheru excess security till Kibaki is sworn as a president
-Convening dusk ceremony where kibaki was sworn in at the State house grounds for the second term.
-Kibaki defiantly calling the "The verdict of the people" to be respected and for " healing and reconciliation" to begin
-Banning demonstrations and public ceremonies all over Kenya
-Banning a rival ceremony which was planned the following Monday to swear Raila Odinga as the president.
Christine Avidi of Stuttgart,Germany called the day "Saddest day in the history of democracy in Kenya".
Following the mediation by former United Nation general secretary Kofi Annan with panel of Eminent African personalities backed by the African Union, The United States and United Kingdom a deal called The National Accord was signed in February 2008 between Raila Odinga and Mwai Kibaki and each were referred as principles.
The Accord later was passed by Kenya Parliament as the National Accord and Reconciliation Act 2008 and provided power-sharing deal where Mwai Kibaki remained President of Kenya and Raila Odinga taking a newly re-created post of Prime Minister.
On 17th April 2008, Raila Odinga was sworn as the second Prime minister of republic of Kenya .
Report written by Samuel Wamwea Sr