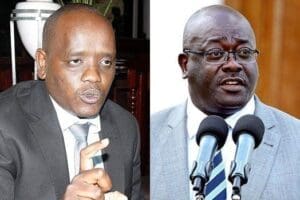 Nothing has lately bared the deep-seated confusion within the Presidential Strategic Communications Unit (PSCU) more than the terrorist attack on Kenya's security forces in Yumbis, Garissa County last Tuesday.
What followed the brazen attack by Al-Shabaab was a flurry of slip-ups that saw Interior Cabinet Secretary Major-General (rtd) Joseph Nkaissery warn the State House-based outfit.
While Mr Nkaissery blamed the media and social media users for playing a part in the confusion on the casualties among security forces, a curious condolence message in the official PSCU Twitter handle purportedly posted on behalf of President Uhuru Kenyatta was puzzling because the Interior ministry was insisting no lives were lost in the attack.
"I mourn and pray with the family and friends of the police officers who lost their lives in Yumbis. They died protecting us. I salute them," read the tweet, which was later deleted.
TOOK RESPONSIBILITY
PSCU Director of Digital Dennis Itumbi later took responsibility for the tweet.
In the end, it turned out that one police officer, Dickens Wakhu, had actually succumbed to injuries.
The Sunday Nation has gathered that Mr Itumbi has since come under intense pressure from the presidency on why he did not verify the information before going public on a matter that has no doubt embarrassed the Jubilee government.
Following the tweet, Mr Nkaissery did not mince his words, warning that not everybody has the authority to report on security matters.
"What happened was a truly confused situation. The fellows at the State House must get this message right. If they misinform the public, we will get hold of them. We are looking at ways of dealing with it," he said.
NO CHAIN OF COMMAND
PSCU is headed by State House Spokesman Manoah Esipisu. Its directors include Mr Munyori Buku, Mr Eric Ng'eno and Mr Itumbi, Ms Munira Muhammad and Mr James Kinyua.
Mr David Mugonyi and Mr Emmanuel Talam work in Deputy President William Ruto's office.
Those familiar with the goings on at PSCU say that even though Mr Esipisu heads the unit, there is no clear chain of command as some directors act independently.
SOURCE: Sunday Nation