Wako elected vice-chairman of global law body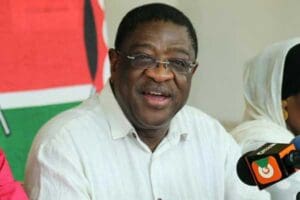 Busia Senator Amos Wako has been elected as the vice-chairman of the International Law Commission.
A vote conducted on Monday by members of the commission saw Kenya's former Attorney-General win the seat.
He will serve on the commission for the next one year.
Mr Wako, who was Kenya's Attorney-General from 1991 to 2011, was seconded by Egyptian diplomat Hussein Hassouna.
The ILC is a UN body charged with "overseeing the progressive development of international law and its codification".
It publishes two annual reports meant to help members of the UN come up with proper international laws.
During the vote, Mr Wako was endorsed for being a "well-known international personality" in the legal system because of his time as Attorney-General as well as having served in various international appointments.
He boasts, on his CV, as having been the State's chief legal advisor when it attained a new Constitution in 2010.
And although critics argue he often looked the other way when the State clamped down on dissent, his international career also flourished.
For example, between 1985 and 1992, he served as the vice-chairman of the UN Human Rights Committee, special rapporteur of the UN Commission on Human Rights and special envoy of the UN secretary-general to countries such as Timor-Leste, Suriname, Algeria, Liberia and Colombia.
He was also the president of the International Seabed Authority and vice-president of the conference that adopted the Rome Statute in 1997, the principal foundation law forming the International Criminal Court.
LED DURBAN REVIEW CONFERENCE
In 2009, he presided over the Durban Review Conference on Racism, Racialism and other Xenophobia before he was first elected to the ILC for a five-year term by the UN General Assembly in November 2011.
He was once the secretary-general of the African Bar Association, between 1978 and 1980, a time he also held the same position for the Inter-African Union of Lawyers.
Wako studied law at the University of Dar es Salaam in Tanzania.
He also studied economics at the University of London in the United Kingdom. He earned a postgraduate degree in law from the same institution.
Mr Wako will serve under Indian lawyer and Secretary-General of the Indian Society of International Law Narinder Singh, who has been elected chairman.
The commission has two vice-chairmen.
The second vice-chairman's post went to Czech law academic Pavel Sturma.
The commission's members also voted in Mathias Forteau of France as chairman of the Drafting Committee, while Marcelo Vazquez-Bermudez of Ecuador was elected rapporteur.
The International Law Commission, established by the UN General Assembly in 1948, consists of members who are "persons of recognised competence in international law".
Its membership is drawn from diplomats, practicing lawyers, government ministers, international law lecturers as well as officials in international organisations.
Its main function has been to publish discussions and decisions on international legal subjects.
-nation.co.ke