KDF kills seven Al-Shabaab fighters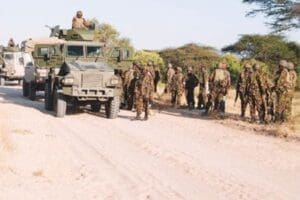 Kenyan troops on Wednesday killed seven Al-Shabaab terrorists in battle at a remote township in Somalia.
Kenya Defence Forces Spokesman David Obonyo said Al-Shabaab fighters ambushed the soldiers after a vehicle they were travelling in hit an "Improvised Explosive Device" planted on the road.
A KDF soldier died while another sustained injuries during the fight at Lagolie, the small township near Elade in Gedo region.
"The troops were on routine duties when their vehicle was hit by an IED laid by Al-Shabaab terrorists. The soldiers pursued the terrorists and in the ensuring fire fight seven Al-Shabaab terrorists were killed, eight AK- 47 rifles, two grenades and assorted ammunition were seized. The injured soldier is receiving the necessary medical attention," said Colonel Obonyo.
He said Al-Shabaab activities have heightened in the past week following "sustained pressure from troops operating under Amisom (Africa Union Mission In Somalia)."
MILITANTS FLEEING
There are over 4,000 KDF troops in Somalia operating under Amisom, and their activities are restricted in Sector 2.
The other sectors are covered by troops from Uganda, Djibouti and Sierra Leone.
Col Obonyo added that some of the Al-Shabaab fighters who encountered Kenyan troops were fleeing areas they occupied before incursion by Ethiopian military last week.
"Also due to the entry of Ethiopian troops into Bay Bakool, the terrorists have been forced to flee to the West into Gedo and South towards Lower Shebelle," he said.
On Monday, Al-Shabaab hurled petrol bombs at a police car after it hit a landmine in Lamu.
Five people, including three women and two children, were killed. Two officers also sustained injuries.
BARBARIC ATTACKS
"Defence ministry condemns in the strongest terms possible the heinous and barbaric attack in Baragoni. One of the women was pregnant and the police were on a noble humanitarian mission of taking her to hospital," Col Obonyo said.
At the weekend, an unknown number of Al-Shabaab fighters were killed after Kenya Defence Forces carried out airstrikes in Somalia's Gedo region.
The air strikes targeted two Al-Shabaab bases at Tunno Baruaquo and Laan Quarap on Saturday and Sunday.
KDF spokesman David Obonyo said Al-shabaab had set up "operational camps" in the area because it is not covered by Amisom troops in the war-torn country.
"At the moment, we do not have ground troops in that area and so it is difficult to know the damage assessment. But in total three technical were destroyed," said Colonel Obonyo.
Technical are usually pickup trucks mounted with machine guns.
VIOLENT CAMPAIGN
Col Obonyo denied reports in the social media that villagers had died in the airstrikes.
The camps are also believed to have been occupied by militants who fled upper regions after Ethiopia deployed its troops last week.
A force of about 3,000 troops from Ethiopia armed with heavy weaponry crossed the border into Somalia and proceeded to Luq town last week.
During the holy month of Ramadhan, Al-Shabaab militants have multiplied their attacks on government and Amisom positions, even spilling their violent campaign into Garissa and Lamu counties.
-nation.co.ke