MAVUNO CHURCH IN THE NEWS AGAIN, ADVERTISES NEW 'SEX' SERMONS
Mavuno Church in the News Again, Advertises new sex sermons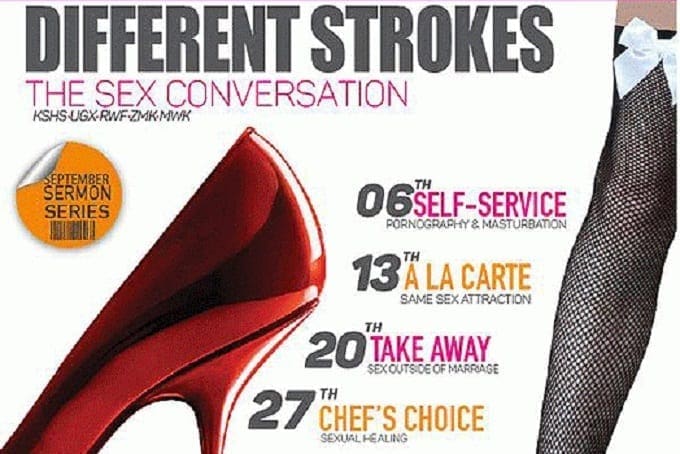 Mavuno Church are at it again. In February last year, the church was put in the dock when it designed a flyer that many Kenyans felt was too raunchy.
This time round, the church has come with a poster many would easily think was done for a strip club.
It features a leg of a lady covered in just a thigh-length fishnet.
But it's for a good cause. The whole of this month, the church will be tackling tough issues on sex such as masturbation, homosexuality and cheating, among others.
"We want to connect with teens using the language they are using. We always start with where people are in culture and we lead them to where God wants them to be," one of their pastor said in an earlier interview.
The poster, which is posted on the church's Twitter and Facebook accounts reads: "This September at a Mavuno near you, we are talking tough questions about sex and sexuality #DifferentStrokes."
The church's Twitter handle in one post says, "it's time we all talked about these controversial topics."
"How does one successfully navigate a world where many questions remain unanswered about sex and sexuality?" it adds.
Is Mavuno Church behaving like an organization rather than a Church, are those kind of posters depicting anything to do with a church?
The emergence of evangelical churches has meant that churches have to compete to attract the youth. They have incorporated modern music, language and other social trends to avoid looking boring.
Many of the churches even have their pastors preach using power point and have teams that prepare DVDs and blogs for sermons.
Is Mavuno Church in order to design such a poster? Share your thoughts on the comments section below.
-nairobinews.co.ke
Mavuno Church in the News Again, Advertises new sex sermons