Uhuru Abandons Bodyguards, Drives To Church To Attend Mass
Uhuru Abandons Bodyguards, Drives To Church To Attend Mass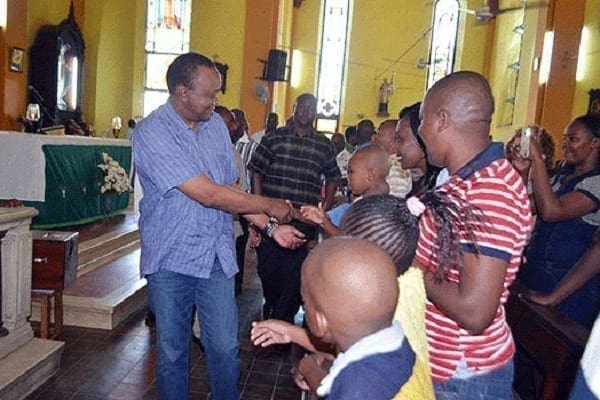 Worshippers at the Holy Ghost Cathedral on Nkrumah Road, Mombasa, were surprised when President Uhuru Kenyatta quietly joined them for the 9.15am mass.
In a simple, blue short-sleeved shirt and jeans, the President alighted from his vehicle and walked into the church.
He arrived in a convoy of four vehicles and did not have his security detail and a press team.
When he joined other worshippers at the entrance, one of them recognised him and could not hide her surprise.
She stopped and shouted, alerting the rest: "President yule….ndiye huyu anaingia kanisani. Amekuja vipi, lakini hatukumwona (There is the President. Here he is entering the church. But how did he arrive and we did not see him?)
SAT IN FRONT
Looking relaxed and jovial, the President and Nyali MP Hezron Awiti, who had also just arrived for the service, walked together into the church and sat in a front row.
Before the service started, Father Robert Omondi announced the President's and Mr Awiti's presence, amid loud clapping and ululation.
President Kenyatta later joined the queue to receive the Holy Sacrament from the presiding priest, Father Vincent Owuor.
After the service, Fr Omondi invited the President to address the congregation, but the Head of State declined. He asked the priest to tell the congregation that he had attended the service ''as an ordinary Catholic.''
Father Omondi urged the President not to tire in serving Kenyans with diligence and humility because the people looked upon him for guidance and direction.
Outside the Church, the Mr Kenyatta shook hands with a few of the worshippers, and briefly chatted with a young boy before being driven off.
As the four-vehicle convoy drove out of the church, the smiling President waved at the faithful and wished them well, "mbarikiwe', (may you be blessed).
The faithful responded amen and waved back.
When one woman pleaded with him to greet them, President Kenyatta gave a broad smile, and waved at her.
NO FANFARE
His vehicle then left the church compound back to State House through Nkurumah Road, without the usual fanfare.
On Thursday, the President toured the Mombasa County stands at the ASK show and praised the administration for a good job. He assured the leadership of his support.
"Keep up the great work. You have proved that devolution is working. Count on my support. God bless," President Kenyatta wrote in the visitors' book at the end of the tour.
Governor Hassan Ali Joho, who had accompanied the President at the showground, later posted on his Facebook page: "It was a pleasure to host His Excellency President Uhuru Kenyatta at the Mombasa County stand."
The Head of State has spent at a quiet weekend in Mombasa County, since he officially opened the ASK show in Mkomani, Nyali on Thursday.
He met with local leaders at a forum closed to the media at State House on Friday.
-nairobinews.co.ke
Uhuru Abandons Bodyguards, Drives To Church To Attend Mass