Waiguru sues Raila for 'recklessly tarnishing' her name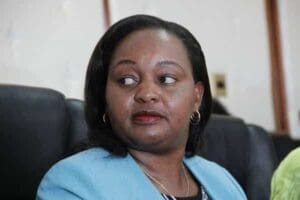 The Devolution CS has sued Cord leader Raila Odinga for "recklessly tarnishing her name" by linking her to the Sh791 million NYS scandal.
Anne Waiguru filed the defamation suit on Tuesday saying Raila damaged her character in an address to the press at his office on July 17.
At the press conference, Raila released a dossier on Waiguru and said President Uhuru Kenyatta spared her from the corruption 'list of shame'.
The CS did not specify monetary compensation but wants a court to order Raila to apologise publicly "for tarnishing her good name".
Waiguru said; "The defamatory words meant that I use my position in the government to engage in immoral activities."
Her lawyers said Raila portrayed her as a woman of "low moral standing", who is involved in "unethical and professional misconduct".
They said the claims "caused her to suffer immensely as the statements portrayed her as a common thief, an embezzler of public funds, corrupt in the extreme and a flagrant law breaker who is not fit to hold a public office".
Waiguru added that Raila did not make any attempt to verify the "false claims", which she said were broadcast on several TV stations, and published on local dailies and websites.
At the press conference, Raila said the President's war on corruption would not be taken seriously "until thieves are treated equally".
He said Uhuru suspended employees in lower offices for investigations, "but left the big fish", and called for Waiguru to step aside.
"The law must apply on scandals over IFMIS, NYS and the IEBC, the same way as the Roads and other ministries," the Opposition leader said.
When Waiguru threatened to sue him he said; "She threatened to take me to court. I told her to go ahead as Raila is ready. I have many witnesses."
– See more at: http://www.the-star.co.ke/news/waiguru-sues-raila-recklessly-tarnishing-her-name#sthash.YkX5HBAP.dpuf