7 PEV murder cases haunt Ruto at ICC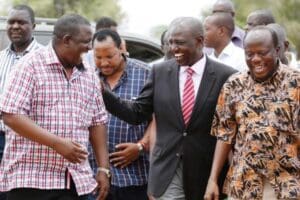 Seven instances of murder during the 2007-08 post-election violence are at the centre of the ICC charges against Deputy President William Ruto.
The dozens of victims include the 30 to 50 people, mostly women and children, burned alive in a church in Kiambaa.
Prosecution witnesses alleged killings occurred in Turbo town, Kapsabet town, Nandi Hills, Kimumu, Langas, Yamumbi, Huruma and Kiambaa.
In his 95-page no-case-to-answer application, Ruto says Prosecutor Fatou Bensouda has not linked him to any murder.
"There is no relevant evidence for Turbo town, Kapsabet town, Nandi Hills town; and insufficient evidence for Kimumu, Langas and Yamumbi. Whilst some evidence of murder [exists] in relation to Huruma and Kiambaa…there is no evidence linking Mr Ruto to those killings," Ruto's lawyer Karim Khan told the judges last week.
Ruto is accused of three counts of crimes against humanity involving murder, persecution and deportation or forcible transfer of population.
Bensouda relied on four witnesses to the killing of a Kalenjin boy (Kevin Kipchumba) by a policeman in Turbo in January 2008.
One witnesses alleged a Luhya man was killed by police in Turbo on an unspecified date. Khan argues this is hearsay.
Concerning Huruma, a witness alleged that around January 1, 2008, he saw one Kikuyu killed by Luos, Kalenjins and Luhyas.
Another witness testified about seeing of six bodies in Huruma, while another said a Kikuyu youth was shot.
Ruto calls these accounts unreliable because the same witnesses did not know where Huruma is.
Witness P-0469 testified about the beating of a Kikuyu on December 30, 2007, by five Kalenjins, a Turkana and other unidentified persons.
Witness P-0189 testified she saw the bodies of three Kikuyus near Rock Primary, between Munyaka and Eldoret, on December 31, 2007, and 10 to 20 bodies of unidentified individuals at Kahoya Estate around January 5, 2008.
Ruto argues the Prosecution failed to establish the areas are within Kimumu or another location cited.
"In relation to the bodies allegedly seen by P-0189, there is no evidence as to when, why or how the individuals died," Khan said.
The Prosecution also wants Ruto convicted for financing or orchestrating killings in Langas, where four witnesses said they saw Kalenjins and Luos murdered.
But Khan said P-0189 testified severed heads of Luos were possibly the work of Mungiki, making the evidence irrelevant.
Witness P-0658 testified about the murder of a Kikuyu woman and her newborn in Langas on January 1, 2008.
Khan said there was no way such an killing could go unreported and not be presented to the KNCHR and Waki Commission.
"This evidence is incapable of belief. Specifically, what is, if true, a shocking and significant incident is uncorroborated by any other evidence, including contemporaneous news reports, the CIPEV report and hospital records," Khan said.
Another witness gave evidence about the killing of three Kikuyu men in Langas.
Khan says this is double hearsay, lacking specifics on ethnicity and date.
Three witnesses testified to alleged killing of three unnamed Kikuyus by Kalenjin youth in Yamumbi area. One death certificate is dated December 31, 2007. Two witnesses said the second killing happened on December 30 or 31.
The sixth account is the infamous Kiambaa killing in which Kalenjin youths torched a church where women and children were sheltering.
Ruto's lawyers agree Kalenjin youths attacked Kiambaa on January 1, 2008, but said: "There is no evidence Mr Ruto was in any way responsible for this tragic incident."
– the-star.co.ke