Anne Waiguru: How I bought my house in Kitisuru neighborhood
Anne Waiguru: How I bought my house in Kitisuru neighborhood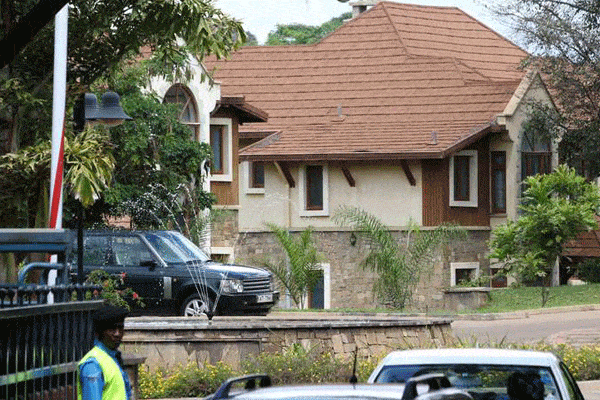 Former Devolution Cabinet Secretary Anne Waiguru has for the first time come out to shed light on her state-of-the-art mansion in Nairobi's exclusive Kitisuru neighbourhood.
Ms Waiguru, who resigned from the Cabinet last November following months of sustained pressure over corruption allegations in her ministry, maintained that she bought the mansion, estimated to be worth between Sh100 million and Sh150 million, using a government mortgage.
"With regard to the defamatory insinuation that I bought my house with cash from the proceedings of corruption, had Dr Ndii bothered to make some basic preliminary inquiries, other than relying on rumour mongering, he would have established that the house didn't cost anything near what they have been spreading out there and that is mostly financed by a government mortgage at an interest of 5 per cent for the next 15 years," the former CS wrote.
In a 1,952 word-response to Saturday Nation columnist David Ndii's article titled: "What Magufuli Presidency means for Uhuru's reign", Ms Waiguru fought off allegations that the National Youth Service which fell under her docket was riddled with corruption.
"On matters pertaining to the National Youth Service, Dr Ndii conveniently forgot to mention that this is the first time in the history of this country that corruption money has been recovered and assets frozen as a result of whistleblowing by a government official," she wrote.
"The shouts by the opposition and the likes of Ndii on the NYS have nothing to do with corruption but their fear of its successful impact on the ground and its implication on the 2017 election in favour of the Jubilee government,' she went on.
Ms Waiguru's imposing residence near the International School of Kenya was the scene of a dawn raid by detectives from the Ethics and Anti-Corruption Commission (EACC) days after her resignation from the Cabinet.
For seven hours, the detectives combed every corner of the residence, including the children's bedrooms and bathrooms.
In a bare-knuckled criticism of the Jubilee government's fight on corruption, Dr Ndii had pointed out how Ms Waiguru had "evidently bought an outlandish house".
He had also cited media reports that Sh1.5 million of the stolen NYS Sh791 million had been wired to an aide to Mr Ruto.
But in her defence, Ms Waiguru took credit for blowing the whistle over the corruption at NYS, leading to investigations and subsequent prosecutions.
Ms Waiguru also dismissed Mr Ndii's argument that Tanzania's economy would overtake Kenya's within the next five years.
"To make the case that Tanzania will overtake Kenya in five years because they have done away with serving meals during meetings and such token gestures does not constitute economic transformation," she stated.
"Unlike Kenya, Tanzania's constitutional review process failed. This means that Tanzania is yet to make structural changes.
Anne Waiguru: How I bought my house in Kitisuru neighborhood