Photos:Britain's Prince William in Kenya for wedding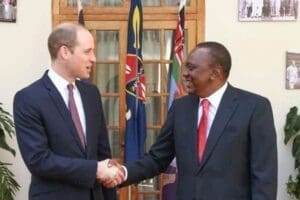 Britain's Prince William on Thursday held talks on conservation and security with President Uhuru Kenyatta on Thursday.
The prince, the second in line to the UK throne, is in Kenya to attend the wedding of his former girlfriend Jecca Craig, the daughter of Kenyan conservationist Ian Craig.
During the meeting with President Kenyatta, Prince William pledged support for Kenya's efforts to stem poaching ahead of the world's biggest burning of ivory.
"If there is anything I can do to raise the profile in your efforts to conserve wildlife, I will do it," Prince William said, according to a statement.
President Kenyatta highlighted Kenya's progress in combating poaching, disclosing that he would in April preside over the torching of the country's ivory and rhino horn stockpiles.
Next month, Kenya is set to torch the vast majority of its ivory and rhino horn stockpiles — 120 tonnes of ivory, eight times the size of any ivory stockpile destroyed so far, as well as 1.5 tonnes of rhino horn.
The highly publicised display will be led by Kenyatta and attended by a gaggle of celebrities, conservationists and heads of state.
"We are determined to conserve our wildlife for posterity and welcome all the support we can get in this endeavour," President Kenyatta said.
The President said the destruction of the ivory and rhino horn will send a strong message that trade in illegal wildlife trophies is not tolerated.
Prince William has repeatedly condemned illegal wildlife trafficking and has encouraged anti-poaching efforts, including by being patron of the conservation charity Tusk Trust.
President Kenyatta and Prince William also discussed security and the war against terrorism where the President emphasised on the need to deal with the root cause of radicalisation.
Prince William commended Kenya's leading role in the war against terrorism in Somalia.
-nation.co.ke