Video: Drama as Governor Rutto fight with an MCA at a public function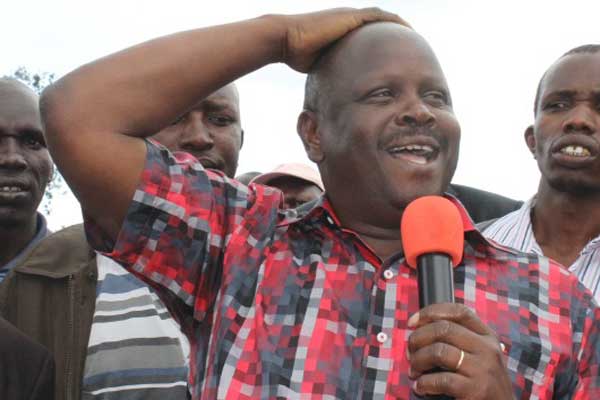 A video grab of Bomet governor Isaac Rutto(right) in a scuffle with Kipsonoi ward MCA John Ngetich during a function at Chebole in Sotik on Wednesday.
Isaac Rutto nearly fought with an MCA on Wednesday, a day after he was forced to flee a public baraza in Sotik when a crowd turned rowdy.
The Bomet Governor had a heated exchange with John Ng'etich, during which he tried to grab a microphone from the Kipsonoi MCA.
Trouble started when Ng'etich, in his address to residents during Rutto's visit to the area, lined them up to question him.
The MCA said this was only prudent" as they needed to know more concerning delayed development projects in the ward.
Noting the county had not fulfilled many of its pledges to the ward, he said residents' questions could only be best answered by Rutto.
But the Governor accused him of hijacking his meeting to settle political scores. The two had disagreed over key development issues in the area.
Crowds surged forward as the two leaders fought over the microphone, turning the incident more chaotic. Rutto left without addressing the residents.
Ng'etich later condemned the spectacle saying it was wrong for Rutto, "the county chief", to act in that manner.
"It is quite unfortunate for the Governor to stoop so low as to portray such ugly acts in public," he told the press.
"He grabbed the microphone denying residents who voted for him a chance to question him on some developmental issues."
Rutto, through his Communications director Bii Samoei, said he specifically planned the occasion to meet the people.
He said Ng'etich erred by taking over and turning  it into a rally for attacking him.
Source-the-star.co.ke
Video: Drama as Governor Rutto fight with an MCA at a public function