Kenyan Natives James Njere now newest citizens in America
Kenyan Natives James Njere now newest citizens in America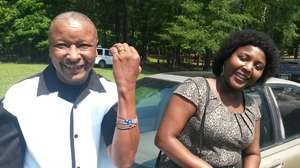 I asked what might be considered a rude question of 27 immigrants just before they became some of our nation's newest citizens.
They were awaiting the start of a recent naturalization ceremony held by the U.S. Department of Homeland Security at Kennesaw Mountain National Battlefield Park.
Immigration – the illegal version and even the legal kind – and our global role are complex, polarizing issues that already have roiled this year's presidential race.
So I wondered: Are these newcomers going to be anchors weighing down our economy, or will they contribute to the whole capitalism thing?
I asked each of the soon-to-be American citizens if they had a job and, if so, what they did for a living. Some of their answers surprised me. Some didn't.
James Njere smiled at me and held up his fists like a mini Rocky Balboa.
"I have two arms to work," the 55-year-old told me. He looked proud. He wore two beaded wristlets, one in the red, white and blue of the U.S. and the other in the red, black and green of his native Kenya.
His wife, who's also from Kenya and became a U.S. citizen several years ago, told me she came to this country with a single suitcase. Now, she's got an associate's degree and works as a medical coding analyst. They own a home in Cobb County. Her husband, who came to the U.S. 12 years ago to find work, is a machine operator in a warehouse.
"We are very proud," Beth Njere said. "We work hard."
"You want to do something for the country you have acquired. Nothing can stop you."
In a lot of ways, my newest countrymen and women seemed a lot like the rest of us economically: a quilt of professions and jobs and striving.
One man, an engineer from Colombia, said he lost his U.S. job in the telecommunications industry and has been out of work three years. A young woman from Brazil told me she's a full-time student in nursing, one of those always-in-demand jobs. Three others told me they were stay-at-home moms, though one recently launched a business teaching yoga to children (and she previously worked in IT).
Who has more gumption?
It's surprising there weren't more business entrepreneurs in the group. After all, who has more entrepreneurial gumption than someone who leaves their country to make a new life elsewhere?
Every other corner of the U.S. economy seemed covered, though. A head tennis pro at a country club. A tax accountant from Senegal. A private middle school principal wearing a tie with the colors of the American flag. A restaurant manager from Algeria and a bar manager from Vietnam. A woman who works shifts at T.J.Maxx and Goodwill stores. An IT senior manager from India. A guy from Mexico who works 60 hours a week forming concrete. A heating and air conditioning technician from Jamaica.
"Finally, I'm a real citizen now," said Ming Yang Hale, a pregnant Delta flight attendant who first came to the United States as an exchange student. "I'm finally part of this country and everyone else."
Like several other new citizens, she cried during the ceremony. Heck, I got glassy eyed, too. It's stirring stuff.
Siobhan Dolan from Ireland cried when she opened the government letter disclosing that the ceremony location overlooked Kennesaw Mountain. She regularly hikes the park with her seven-year-old daughter whom she and her American-born husband adopted from China.
"This country was made of immigrants," she said. But lately, she said, she's been frustrated by a blast of negative political sentiment about immigrants and their presence in the U.S., particularly Muslims.
(A press release announcing the Kennesaw ceremony from DHS's U.S. Citizenship and Immigration Services said: "On the very same battlefield where a Civil War battle once underscored national division; citizens from all over the globe will be seated together in a ceremony that promotes national unity.")
Most are here legally
The people becoming citizens that day were in the nation legally. Which is how it is for most foreign-born people here, despite the millions of people who are in the country illegally, according to the Pew Research Center.
Globalization worries many Americans. But I was glad to see results of a recent Pew survey. It found that 59 percent of Americans surveyed think immigrants today strengthen our country because of their hard work and talents, while only 33 percent said immigrants are a burden because they take our jobs, housing and health care.
Navin Jayasekar is a wealth management advisor for medical professionals, professors and others, many of whom have more than $1 million in assets. Like him, he said, many are immigrants.
He left his native India 23 years ago and has spent his entire adult life working in the U.S. He's married to an American and has three kids and a Cobb home. The quintessential American dream. The naturalization ceremony was going to be a formality that would ease the logistical challenges of traveling outside the U.S.
Instead, he told me, he was unexpectedly touched by it.
"I paid my dues. I've been a producer in society," he said, "and now it is time to be part of society."
Welcome, brother.
By Matt Kempner
-myajc.com