Raila Odinga-Moi Handshake Sparks Interesting Theories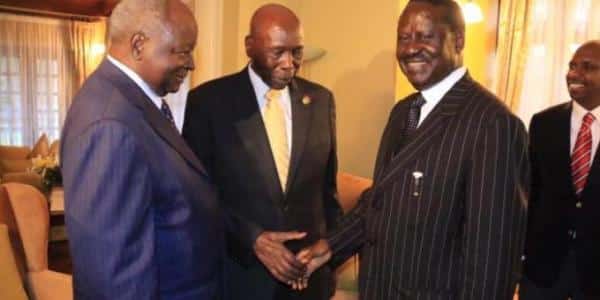 Raila Odinga-Moi Handshake Sparks Interesting Theories
A photo of Former Prime Minister Raila Odinga posing together with retired Presidents Daniel Moi and Mwai Kibaki has sparked a myriad of reactions on social media.
The three political veterans had met at Mr Kibaki's home to condole the former President's family following the death of former First Lady Lucy Kibaki.
The interesting photo capturing the presumably rare moment of when politicians put aside their political differences, has been interpreted differently by various Kenyans.
Firstly, a section of the public felt that its a perfect case in point of how political leaders will remain united despite their political differences, therefore Kenyans should draw lessons on the need to remain united irregardless of our tribes or political affiliations.
On the other hand, to some Kenyans there was more to the photo than just the solidarity aspect. This faction of social media users felt that the former Prime Minister was too thrilled with the moment to concentrate on the handshake hence 
Odinga
was all smiles at the cameraman.
For the third group, this was a hilarious moment and they could even tell what the three political heavyweights were talking about.
The fourth category of users thought the photo was not nice a one. They did not like it at all.
Raila Odinga-Moi Handshake Sparks Interesting Theories