VIDEO: Woman found alive 6 days after Huruma building collapse
VIDEO: Woman found alive 6 days after Huruma building collapse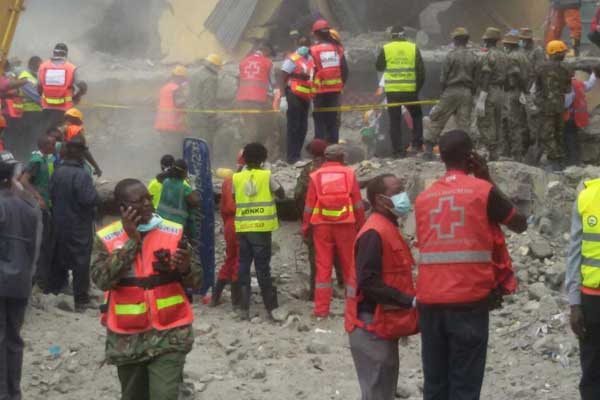 A woman has been found alive in the rubble six days after a building collapsed in Huruma, Nairobi.
Rescuers found the woman at 11.47am Thursday. She is said to be weak but with no visible injuries.
National Disaster Management Unit Incident Commander Pius Maasai said she is being attended to by doctors at the scene.
The Kenya Defence Forces are clearing debris to allow them to pull her out.
A Kenya Red Cross official said the woman is trapped in a corner and is on oxygen and intravenous fluid.
On Tuesday, a baby girl was rescued unscathed from the rubble, four days after the building collapsed.
Seven-month-old Dealeryn Saisi was found sleeping in a basin wrapped in a blanket.
On Wednesday, rescuers said there was hope of finding more survivors after nine rabbits were pulled alive from the debris.
The rescue of the woman brings to 137 the number of people pulled from the rubble since Friday.
-nation.co.ke
VIDEO: Woman found alive 6 days after Huruma building collapse