Briton claims Kenyan woman shot herself accidentally with his pistol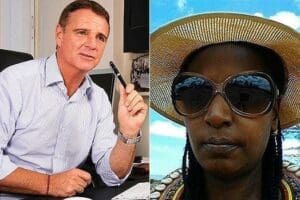 A Briton arrested on suspicion of killing a Kenyan in his Karen home has sought to absolve himself from the murder.
Mr Richard Alden, 53, was arrested Saturday afternoon when he took Ms Grace Wangeci, 42, to Karen Hospital saying that she had shot herself.
According to police reports, the deceased had two gunshot wounds in the stomach and two broken fingers that led the police to believe her injuries were inconsistent with suicide and which suggested that she might have been assaulted.
However Mr Alden told the police that Ms Wangeci had accidentally shot herself while handling a Gloak pistol belonging to him.
"As she was handling it (the pistol) she fired it and accidentally there was a bullet in the chamber, however the magazine was locked up elsewhere," he told the police.
Mr Alden claims that he and his house help ran to help and rushed her to Karen hospital where she was pronounced dead on arrival.
The Briton had rented the Karen house in December 2013 on his appointment as the Zuku Kenya managing director. He is married to Matienne, a French woman and together they have two kids.
He had arrived in the country from South Africa that Saturday morning and was supposed to move from Karen to Nanyuki where he owns a home. The family was relocating to Nanyuki and had issued a notice to vacate the Karen house from 10th of June 2016.
In his account to the police, Mr Alden narrated how he had gone for a hike at Karura forest on Saturday morning together with his friends, including the deceased.
PACKING
After the hike, his wife who is currently in the United Kingdom with their two children, had arranged with some friends to help him pack his belongings.
He said while his friends were packing stuff in different rooms,  Ms Wangeci came across his Gloak pistol and accidentally fired it.
Mr Alden is expected to appear at the Kibera law courts on Monday.
Also arrested after the incident were the day guard and the house help, Ms Margaret Muhonje, who are likely to be treated as prime witnesses in the case.
-nairobinews.nation.co.ke