YOUTH SUMMER CAMP WITH A DIFFERENCE JULY 18TH TO JULY 22ND 2016 IN OHIO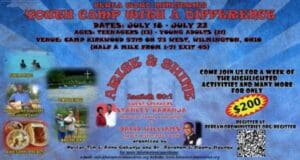 TO ALL YOUTH AND PARENTS,
SUMMER IS HERE AGAIN AND IT IS TIME TO GET OUT AND ENJOY OUTDOORS .
BEREA WORD MINISTRIES
WELCOMES YOU TO JOIN US FOR A SPECIAL YOUTH CAMP WITH A SPECIAL EMPHASIS TO DIASPORA YOUTH .
CAMP WILL BE HELD AT
CAMP KIRKWOOD IN WILMINGTON OHIO
(BETWEEN COLUMBUS AND CINCINNATI) FROM
MONDAY
JULY 18TH TILL

FRIDAY JULY 22ND
.
 IT IS FOUR FULL DAYS OF
LIVE WORSHIP TO THE LORD JESUS CHRIST
DEVOTIONAL TIME FOR EACH INDIVIDUAL & GROUP SETTINGS
RELEVANT TEACHING TIMES EACH MORNING THROUGH PLENARY SESSIONS AND GROUP DISCUSSION
AFTERNOON OF FUN FILLED ACTIVITIES …SWIMMING, CANOEING, VOLLEYBALL, SOCCER, HIKING, ARCHERY AND MORE (KIRKWOOD HAS OVER 200 ACRES OF AMAZING NATURE WITH TRAILS, A MANNED SWIMMING POOL  AND OTHER FACILITIES)
DYNAMIC SPEAKERS WITH RELEVANT YOUTH TOPICS …YOUTH AND THE WORD, INTIMACY WITH GOD, HEALTHY RELATIONSHIPS, YOUTH AND PURITY, OBEYING THE LAW OF THE LAND, CAREER DEVELOPMENT AND SETTING FUTURE GOALS …AND MUCH MORE.
WE HAVE ON CAMPUS OUR OWN MARRIED COUPLES TO BE IN ATTENDANCE FOR COUNSEL AND LEADERSHIP.
THIS CAMP IS
INTERDENOMINATIONAL , INTER STATE AND INTERNATIONAL. PLEASE SEE ATTACHED BROCHURE AND FOLLOW LINK TO WEBSITE TO REGISTER .
IN YOUR LOCAL AREAS YOU MAY CALL
IF COMING FROM OTHER STATES NOT LISTED , PLEASE  EMAIL
CAMP COST FOR ALL ABOVE, ACCOMODATION AND FOUR FUN FILLED DAYS OF  ACTION IS $200 PER HEAD
REGISTER BEFORE
JUNE 30TH

AND GET 10% DISCOUNT
REGISTER AS A GROUP
(MINIMUM GROUP OF 10) BY

JUNE 30TH

AND GET 15% DISCOUNT
.