Why donor took back Sh30m hospital kits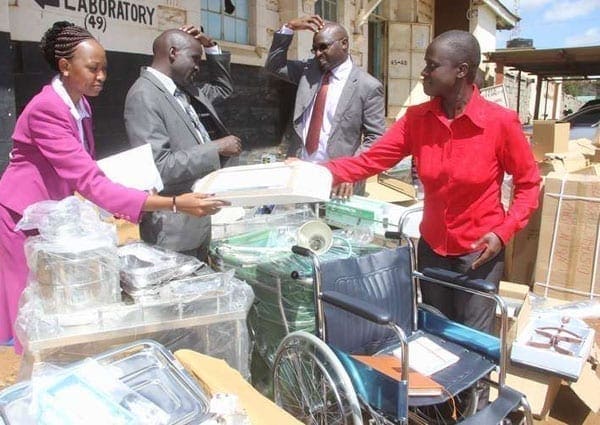 The importers of the Sh30 million medical equipment held at the port of Mombasa but now headed back to Denmark, originally assumed that no taxes would be demanded because they were intended for charity.
Reluctance on the part of Homa Bay County Government, ignorance by the Danish non-governmental organisation and those who were assisting it locally resulted in the holding of the goods in Mombasa for 19 months.
Mr John Odullah, a lawyer from Karachuonyo in Homa Bay, told the Nation that he became friends with Mr Hans Frederick Dydensborg in 2014 when they met at a conference in Kisumu.
Mr Dydensborg is the president of Global Medical Aid, a Danish humanitarian organisation that collects medical equipment and drugs in developed nations and donates it to developing countries.
Mr Odullah took the Dane on a trip to Homa Bay, which involved visiting Kodula Dispensary and meetings with county government officials. After that, an agreement was reached to have some medical equipment donated to the dispensary.
Emails show the county administration was initially involved but appeared to have backed off when told the equipment was ready to be shipped and that it needed to be paid for.
Mr Odullah turned to Karachuonyo MP James Rege, who also backed out and then Kisumu Central MP Ken Obura, who agreed to fund the shipment and use his Ken Obura Foundation to bring it in.
Mr Obura and Mr Odullah said in their consultations with government officials they were of the understanding that if the equipment was being imported as charity and in the name of the foundation, it would not attract taxes.
The lawmaker said he footed the cost of shipment, $2,800 (Sh280,000), which Mr Dydensborg confirmed.
But when the container arrived at the port in November 2014, the Kenya Revenue Authority demanded tax, which together with storage fees has accumulated to Sh7.5 million.
Mr Obura said he refused to pay the taxes because the NGO insisted the equipment could not be sent to Kisumu, adding that he only used his foundation to help his friend.
Homa Bay Health executive Martin Peters Owino says he was not informed of the container's arrival until recently.
-nation.co.ke