Here's Why This Japanese Official Knelt Before Uhuru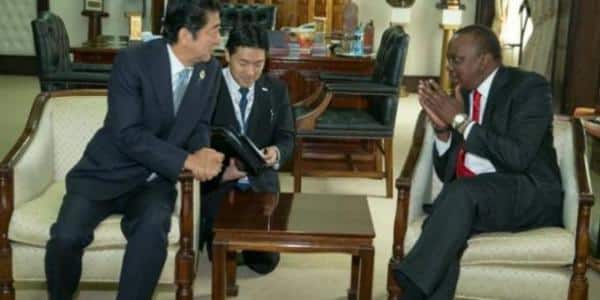 A rare scene was witnessed when President Uhuru Kenyatta was holding talks with Japanese Prime Minister Shinzō Abe at State House, Nairobi.
While Kenyatta and Prime Minister Abe sat down as they engaged in the talks, a Japanese interpreter was kneeling next to the two leaders.
This left many wondering why he was not offered a sit as he remained in the awkward position until they concluded.
It's not clear why he knelt down but it could be argued that it was the most convenient position for him to hear the two clearly.
On the other hand, the act could only be close to a gesture in the Japanese Culture termed asDogeza or Kowtow, which is kneeling directly on the ground. It's used to show respect to the most high-class person in the room, show a deep apology or when one is desiring a favour.
The Japanese PM is in the country to attend the Sixth Tokyo International Conference on African Development (TICAD).
Rev 21:4 "He will wipe away every tear from their eyes, and death shall be no more, neither shall there be mourning, nor crying, nor pain anymore, for the former things have passed away."


Africa Welfare Association is a pioneer provider of services to it's Diaspora members in the event of loss of a loved one. We are entrusted with the welfare of the African Diaspora globally.
We are entrusted with the welfare of the African Diaspora globally. AWA was set up in response to the ever-growing demand for services at a critical time. With trusted partners, AWA will offer you benefits wherever you are in the world.
Alleviate stress with AWA
At some point, we have been with a grieving family or friend and come to learn that none of us are ever prepared to leave this world. When the time comes, we shall leave everything including our loved ones behind. With proper planning, you can alleviate the burden of the expense associated with your untimely departure at a time when your family and loved ones are grieving